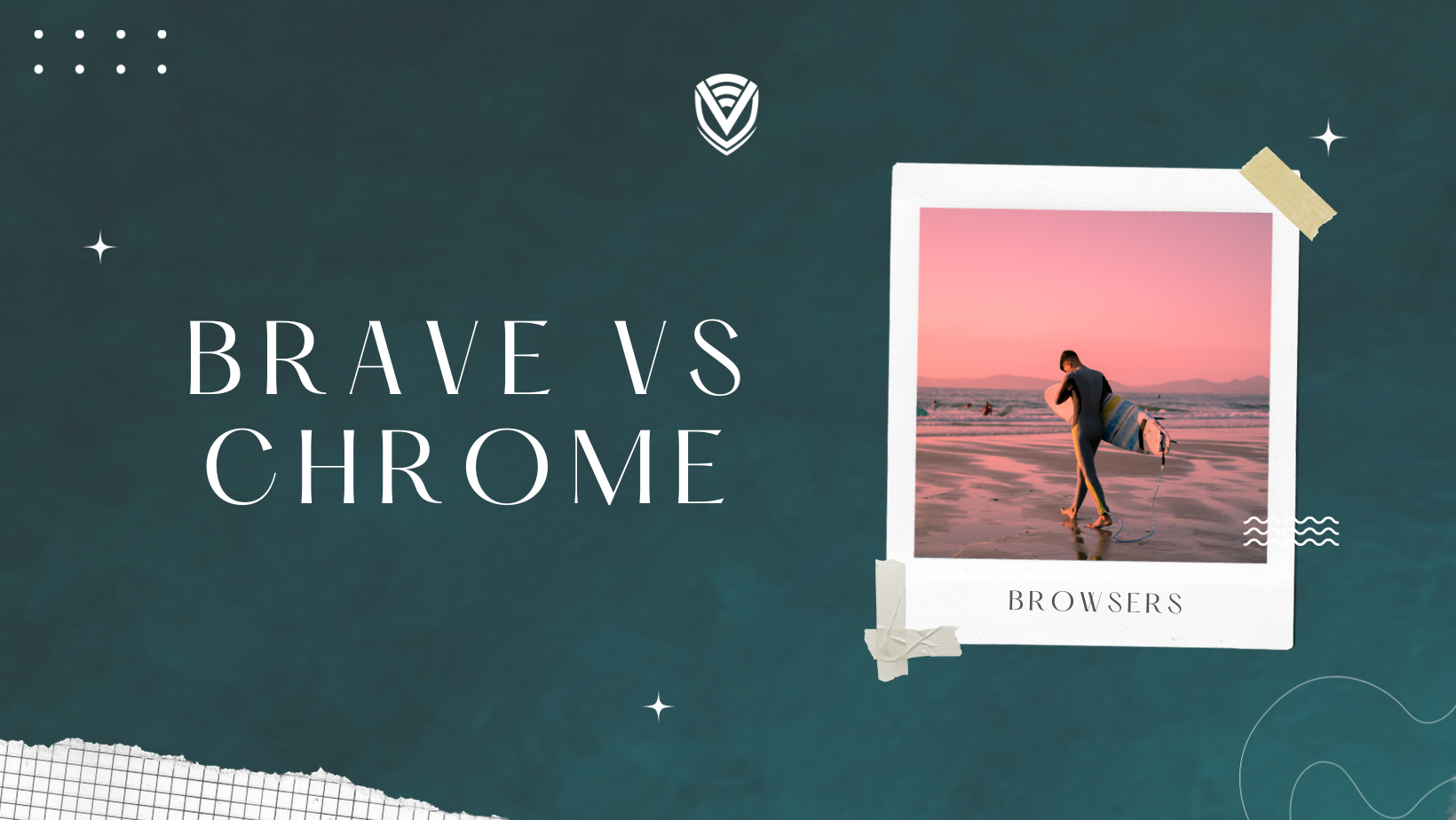 Among all internet browsers, Chrome has been the best and most popular for many years. But today, another internet browser called "Brave" has been making waves and has become a rival. Brave is an internet browser that provides online privacy. But is Brave as useful as Chrome? Is brave good enough for us to use it every day? We know that Chrome is the leading browser and the most popular. However, remember that others try to provide the most effective features and reach many users.
In this post, we compare Chrome and Brave's features and help you decide which is the most appropriate for you based on your needs.
1-Chrome vs Brave: Privacy
The privacy-focused approach is the main distinguishing feature between Brave and Chrome. Using Brave, you don`t need to install a third-party app for blocking ads and trackers, as it comes with native tracking protection.
On the other hand, Chrome does not have any privacy-focused native features. For more privacy, use Incognito Mode. It offers little privacy, and you`ll be tracked in Incognito Mode.
If you want to make your browser`s tracking even more aggressive, you can do it using Brave by toggling various advanced controls. But remember that this action may break some of the sites you visit. You don`t need any extra VPN apps for more privacy for Brave because it provides a built-in VPN and firewall service. Not to mention that the built-in VPN is a paid plan. You`ll have a 7-day trial to decide whether the built-in VPN is worth your money.
The AMP (Accelerate Mobile Pages) feature on your phone compromises privacy and security because it connects directly to Google instead of the website you're visiting. You have likely encountered AMP (Accelerate Mobile Pages) while browsing your phone. It compromises your privacy. Brave can solve this issue. Brave disables AMP pages. Brave will be a better choice for privacy features as your mobile browser.
2-Chrome vs Brave: Performance
Chrome or Brave have better performance, you might ask. You should know that both are Chrome-based browsers. A benchmark test called Basemark Web 3.0 has been conducted to compare these two browsers without bias. This independent platform service test shows how well a browser handles modern web applications and features. Privacy shields and AMP were turned off while testing the Brave.
The higher the number, the faster the browser is. On Android, Brave had a score of 250.97, and Chrome had a score of 217.56, showing that Brave performed faster than Chrome. During the testing period, all other apps were closed. If you care about these numbers, you should know that the Brave browser works better on your Android device. However, in real-world use, the difference is not noticeable.
3-Chrome vs brave: User Interface
The user interface of the Chrome and Brave browsers provides different experiences. Chrome has a more traditional user interface, while Brave has a modern look and feel.
In terms of general layout, both browsers follow the standard tab-based interface with a search bar at the top. Chrome has a more minimalist design, while Brave has a sleeker look. Chrome also has a simpler menu bar and navigation system, while Brave has more options and features available without going into settings.
Overall, Chrome has a more traditional approach to its user interface and more features. In contrast, Brave has a sleeker, more modern look and feel and better security and privacy features. Depending on what kind of experience the user is looking for, Chrome or Brave could be the right choice.
4- Chrome vs Brave: Supporting Multiple-Device Syncing
One of its most important features is Chrome's ability to sync data across different platforms. It is also Chrome's biggest selling point. For example, you will access everything, like various passwords, on multiple devices after logging into your Google account. Using Chrome, you can create a passphrase for all paired devices to ensure secure syncing.
Using Brave, you can sync your data with other devices too, but the other devices must run Brave. You need to create a sync chain using 24-word or QR codes to do that.
Before, Chrome was the only multi-platform browser. These features are now available in many browsers, including Brave.
Generally, Chrome is the preferred choice when syncing multiple devices, as it only requires you to log into your Google account. But when you`re using Brave, you must have access to one of the already synced devices to sync another device.
5-Chrome vs Brave: Offering a Feed
If you used Chrome, you faced the contents and news offered based on your browsing data and habits. The Google Discover feature of Chrome recommends related content. The Brave browser has its news app, but its content comes from a selection of mainstream publications (including MakeUseOf).
People find Brave News a better choice since Google Discover limits content and customization options to browsing activity. They believe they have 100% control of the news and the content and recommendations they provide using Brave.
6-Chrome vs Brave: Unique Features
Chrome and Brave have some unique features that set them apart. Here are their unique features:
Unique features of Chrome:
Web Store:

Chrome offers many extensions and apps available in the Chrome Web Store. They allow users to customize their browsing experience.

Built-in Translation:

Chrome has a built-in translation feature that automatically translates web pages.

Google Services Integration:

Chrome integrates seamlessly with various Google services, such as Google Search, Gmail, Google Drive, and more.

Automatic Updates:

Chrome updates itself automatically in the background to ensure users always have the latest security and updates.
Unique features of Brave:
Privacy and Security:

Brave focuses on privacy and security, with built-in features like ad-blocking and tracker-blocking.

Brave Rewards:

Brave allows users to earn cryptocurrency (BAT) by viewing privacy-respecting ads and supporting their favourite websites.

Tor Integration:

Brave has built-in Tor integration that allows users to browse the web anonymously and access Tor Onion services.

Speed:

Brave claims to be faster than Chrome because it blocks ads and trackers, reducing the amount of data loaded.

Shields:

Brave has a feature called Shields that blocks invasive ads and trackers and prevents malicious scripts from running on websites.
7-Chrome vs Brave: Benefits of use
Chrome and Brave both have different benefits. You have to consider your needs and see which one's benefits meet your needs, then choose the best internet browser. Here, we mention the benefits of both:
Google Chrome benefits
You can send links to other connected devices.

You can organize tabs in groups and enjoy more space in the tabs bar.

Chrome checks for harmful software on your system.

Chrome checks the password if it is breached.

Chrome has the Link Highlighting feature, highlighting the text you copied its link from and taking you to that section after pasting it.

Chrome shows the history of pages you visited by searching for that phrase.

Chrome disables notifications automatically after disabling them on some websites.

Chrome allows you to create multiple profiles for school, work, or personal use to keep your information separate.
Brave benefits
Brave offers a mobile VPN app. However, it`s premium.

Brave has an enhanced privacy feature that enhances privacy and protects fingerprints.

Anonymous browsing is available in Brave's Tor mode.

Group communication is possible for four people in the Brave browser. It`s free and doesn`t require app installation.

Storing coins is possible with Brave. It offers a crypto wallet.
How both sync data
As mentioned, Chrome uses your Google account to sync between your devices.
Chrome can sync:
History

Passwords

Settings

preference

Extensions

Apps

Autofill information

Open tabs

Bookmarks

Phone numbers

Payment cards

Addresses

AutoSign into your Gmail and YouTube accounts
Brave can sync:
Apps

Bookmarks

Settings

Themes

Open tabs

Extensions

Passwords

Addresses

History

Phone numbers
Which Browser Should You Choose?
Finding the right browser depends on your needs. You should consider your needs and find a browser that suits your needs and preferences. Chrome and Brave offer great features that can enhance your browsing experience.
Chrome has a user-friendly design and is popular with many. It is fast, secure, and has a simple user interface. It also has advanced features such as syncing bookmarks, passwords, and other data across multiple devices.
But generally, Brave is a highly recommended alternative to Chrome. It is a privacy-focused browser that blocks trackers and ads by default and suits you if you want more privacy. It also boasts a faster loading time than Chrome and has a built-in Tor browser and cryptocurrency support.
Conclusion
This post compares all essential features of the Chrome and Brave internet browsers. Despite not being as popular as Google Chrome, Brave's approach may attract many internet users due to its uniqueness. I hope that this post helped you decide on the most suitable option. Don't forget to consider your needs before your decision.
People also read:
Do you value your privacy online?
Use VPN Surf and surf safely and securely in the open waters of the internet.