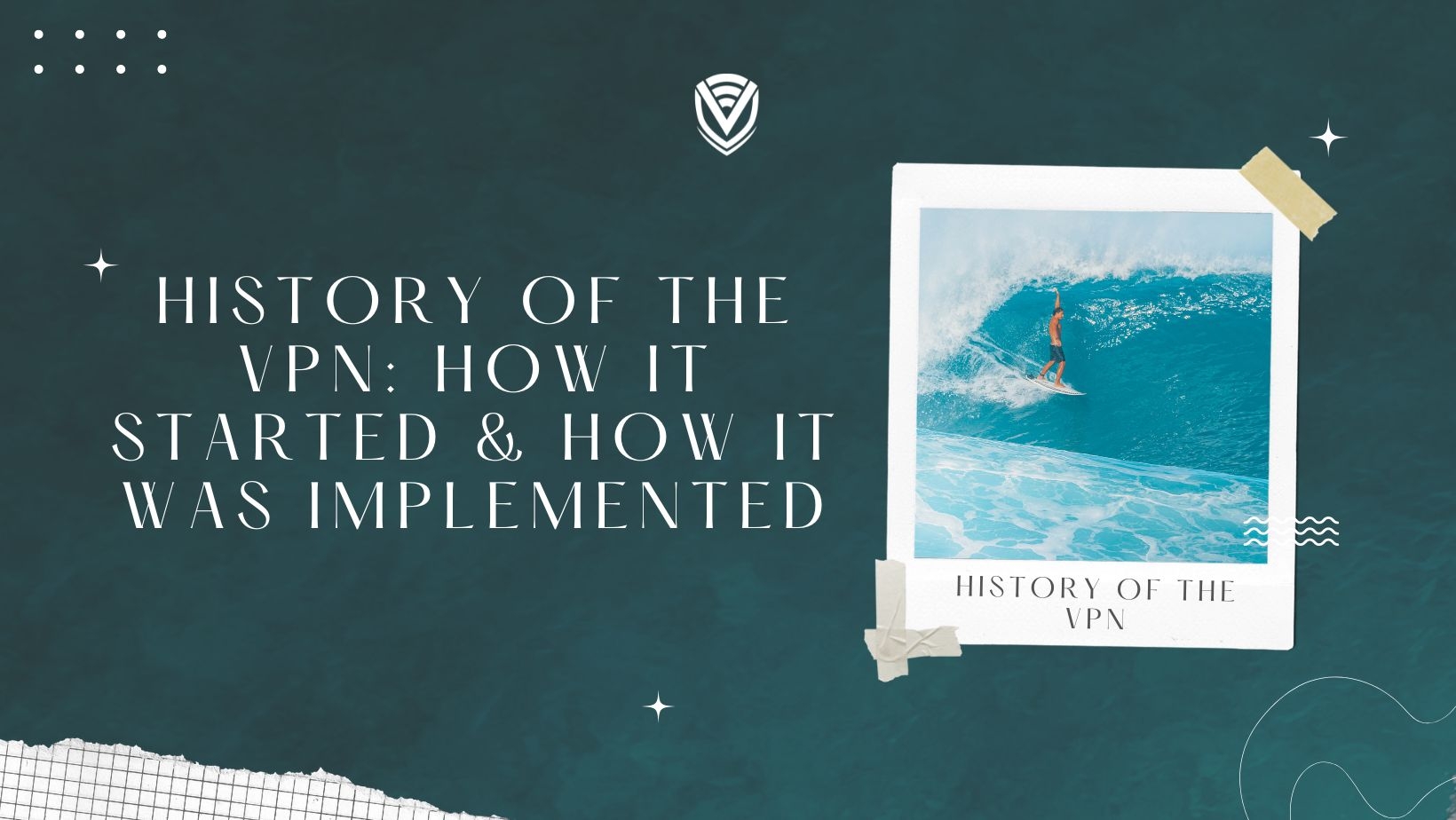 In this day and age the phrase "VPN"(Virtual Private Network) is being thrown about more and more frequently as we browse the wide internet. Whether it's to access location-restricted content, secure data over the internet, or not be subjected to mass surveillance, it's likely that not many users know how VPN came into existence. So how and where did these virtual private networks originate before becoming the powerful tools we use today?
In this blog, we'll examine VPNs' past, learning how they came to be and how they developed through time. From the early days of private networks to the modern era of internet censorship and monitoring, we'll review the changing moments in which the evolution of VPN technology takes a turn into what we see today.
When was the VPN brought to life?
Virtual private networks (VPNs) have been almost as long as the internet itself, as businesses require a secure mechanism to transport data across open networks. Peer-to-Peer Tunneling Protocol, one of the early versions of VPN technology, was invented in 1996 by a Microsoft employee (PPTP). This protocol allowed for the creation of secure connections between different entities and paved the way for the modern VPN.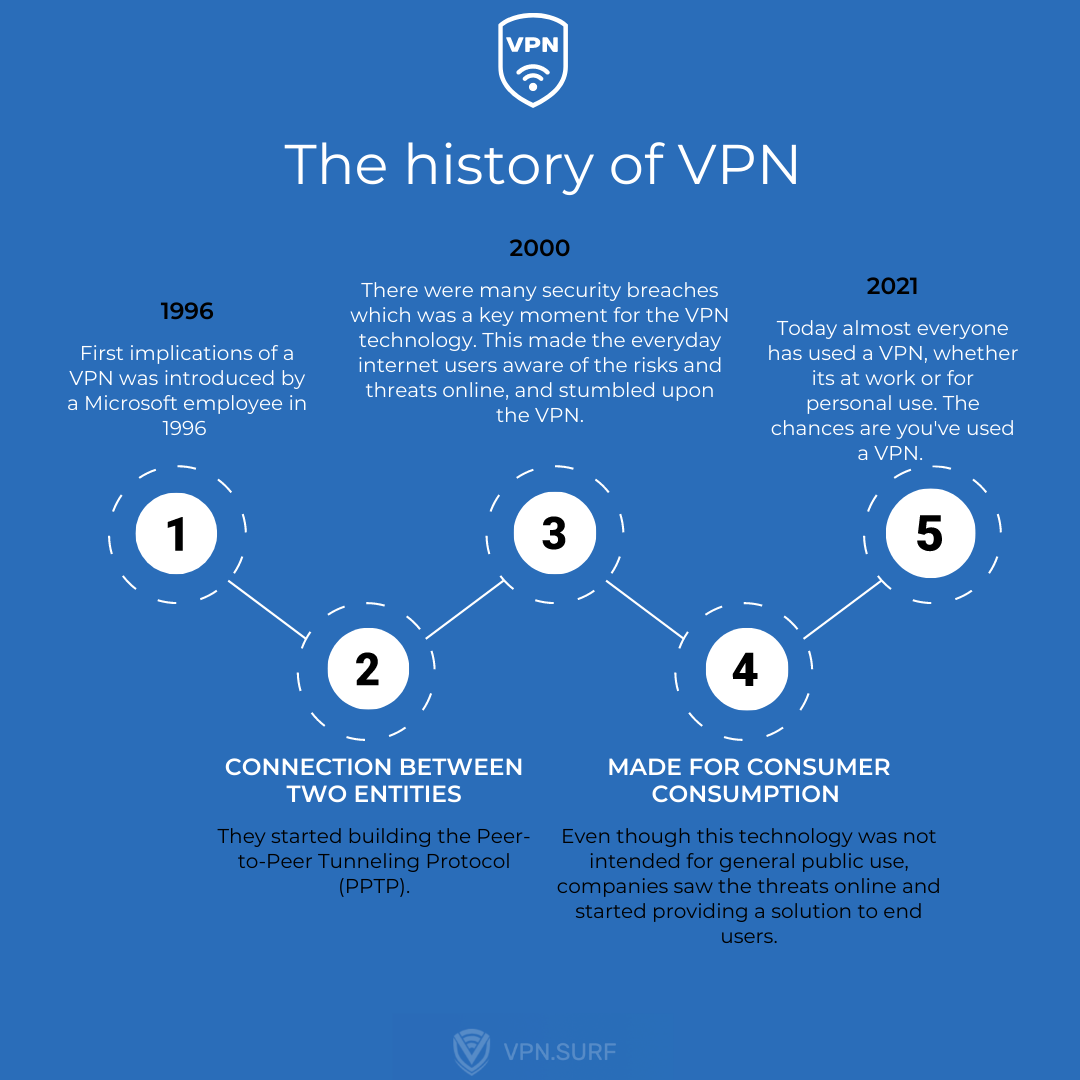 With the passing of time, a various number of different protocols have been created to support the features of VPNs, and each of these protocols comes with its features and benefits. Popular protocols that have been tweaked to meet various use cases and network setups include OpenVPN, L2TP/IPsec, and SSTP.
To learn more in-depth about VPN protocols give this blog a read. All these different protocols made possible the action of connecting remotely to a private network over the internet.
The beginning: VPN in business
Initially, the VPN was introduced and implemented in big companies and organizations. These organizations needed a secure medium to communicate and share files between offices and for employees to be able to access files remotely. Therefore, major corporations and organizations that needed a way to transport data securely between various sites turned to Virtual Private Networks or VPNs. Connecting workplaces physically was a tough and expensive operation in the early days, therefore VPNs gave a more cost-effective and efficient solution.
VPNs also enabled employees to access company files remotely, breaking down barriers to collaboration and communication. This was a game changer for many firms since it enabled a more mobile and flexible workforce.
The development of more powerful encryption methods over time ensured that communications using VPNs remained secure. Today's VPNs use robust encryption techniques to protect against unauthorized access or interception.
It was during the early 2000s that VPN technology really took off among the wider public. After the increase in security breaches and other cyber threats, people started realizing how dangerous the internet can be and how necessary is to protect itself. Since its release, VPNs have become a go-to option for anyone looking to protect their privacy and security online.
VPN for all users: Beginning of a new era
To securely transfer data across various locations or devices, the Virtual Private Network, or VPN, was initially designed and adopted in big businesses and organizations. Yet as cyber risks and security lapses increased, the technology swiftly caught on among regular internet users, ushering in a new chapter in VPN history.
Even though this technology was not intended for general public use, companies saw the threats online and started providing a solution to end users.VPNs were the ideal answer for anyone looking for a way to safeguard their online security and privacy. Hence the birth of VPN providers like VPN Surf came into the market to provide a tool that was meant for the elite, accessible to everyday internet users.
By establishing a secure connection between their device and a distant server, VPNs allowed users to browse the internet anonymously and securely. It is more difficult for other parties to read or intercept the data going back and forth between the user and the server through this connection since it is virtually encrypted.
Many VPN service providers targeting individual customers first appeared in the early 2010s. By offering a number of features, and services, including different encryption levels, virtual locations, and multi-device compatibility, these service providers make VPNs accessible to a wide spectrum of clients.
The Growth
The growth of VPNs was accompanied by the appearance of fresh dangers to internet security and privacy. Governments all over the world started to place limitations on internet use, with some nations completely barring particular websites and services. By routing their traffic through servers in other countries, VPNs enable users to get around these restrictions.
VPNs are becoming a necessary tool for everyone wishing to safeguard their online security and privacy. They are used by individuals and organizations alike and have even become a popular tool for online gamers and streamers looking to protect their identities and locations.
VPNs can offer a wide number of other benefits, apart from improving your security and privacy. For instance, they enable users to access geo-restricted content from any location, including streaming services and online gaming servers. By putting the user closer to the content they are accessing, they can also increase internet speeds.
We may anticipate even more innovation in this area as VPN technology continues to advance. VPNs are expected to become more significant in the future of the digital landscape, from new encryption techniques to improved support for cutting-edge technologies like 5G.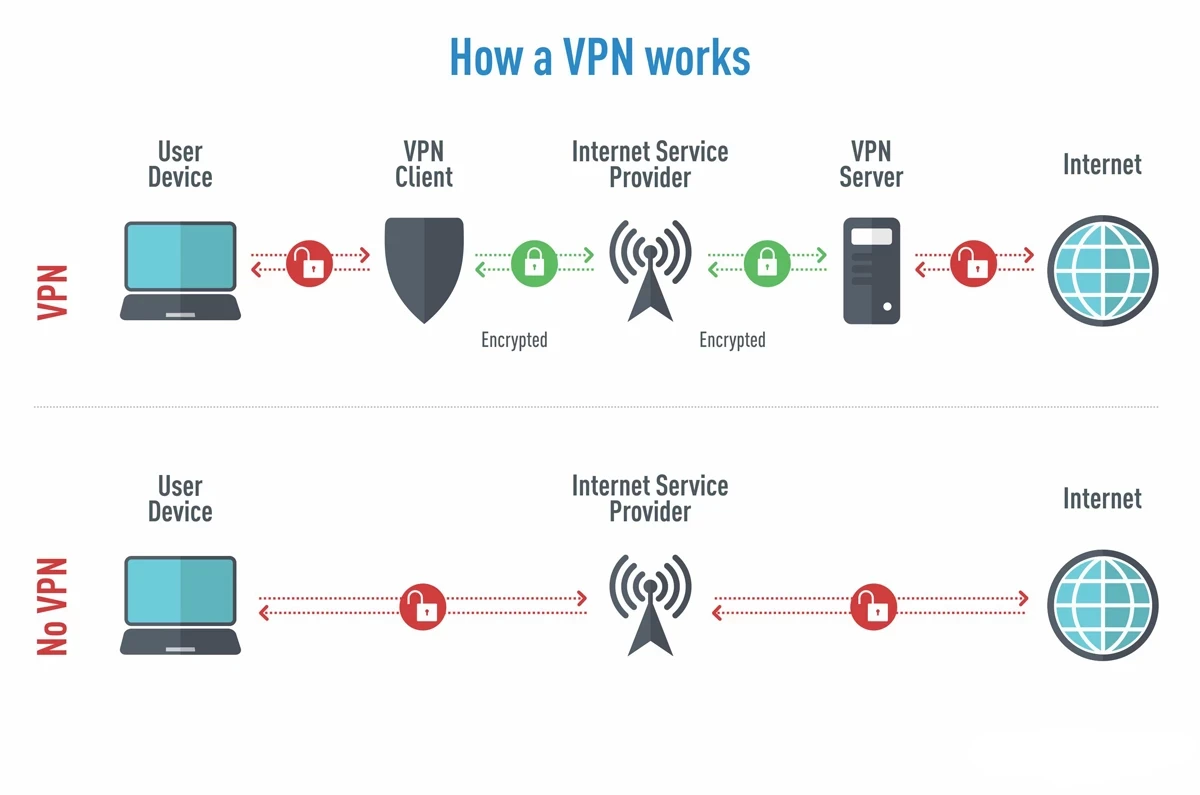 Conclusion
In conclusion, VPN technology has advanced significantly since its inception in 1996. A private network that was initially created for large businesses and organizations has gained popularity among casual internet users who wanted to safeguard their online security and privacy as the internet became more widely used. The emergence of VPN service providers that catered to certain clients in the early 2010s opened VPNs to a wider audience of consumers.
In today's digital environment, VPNs have proven to be a crucial tool for shielding users from online hazards including government spying and cyber threats. They also offer additional advantages including the ability to access geo-restricted content and faster internet. We may anticipate even more innovation in this field as 5G networks expand and VPN technology advances.
We anticipate that as the demand for security and privacy grows, VPNs will become increasingly important in our online lives. So now that you know where it began, go check our service features here and take the best decision to start protecting your online security and privacy.
People also read:
Do you value your privacy online?
Use VPN Surf and surf safely and securely in the open waters of the internet.