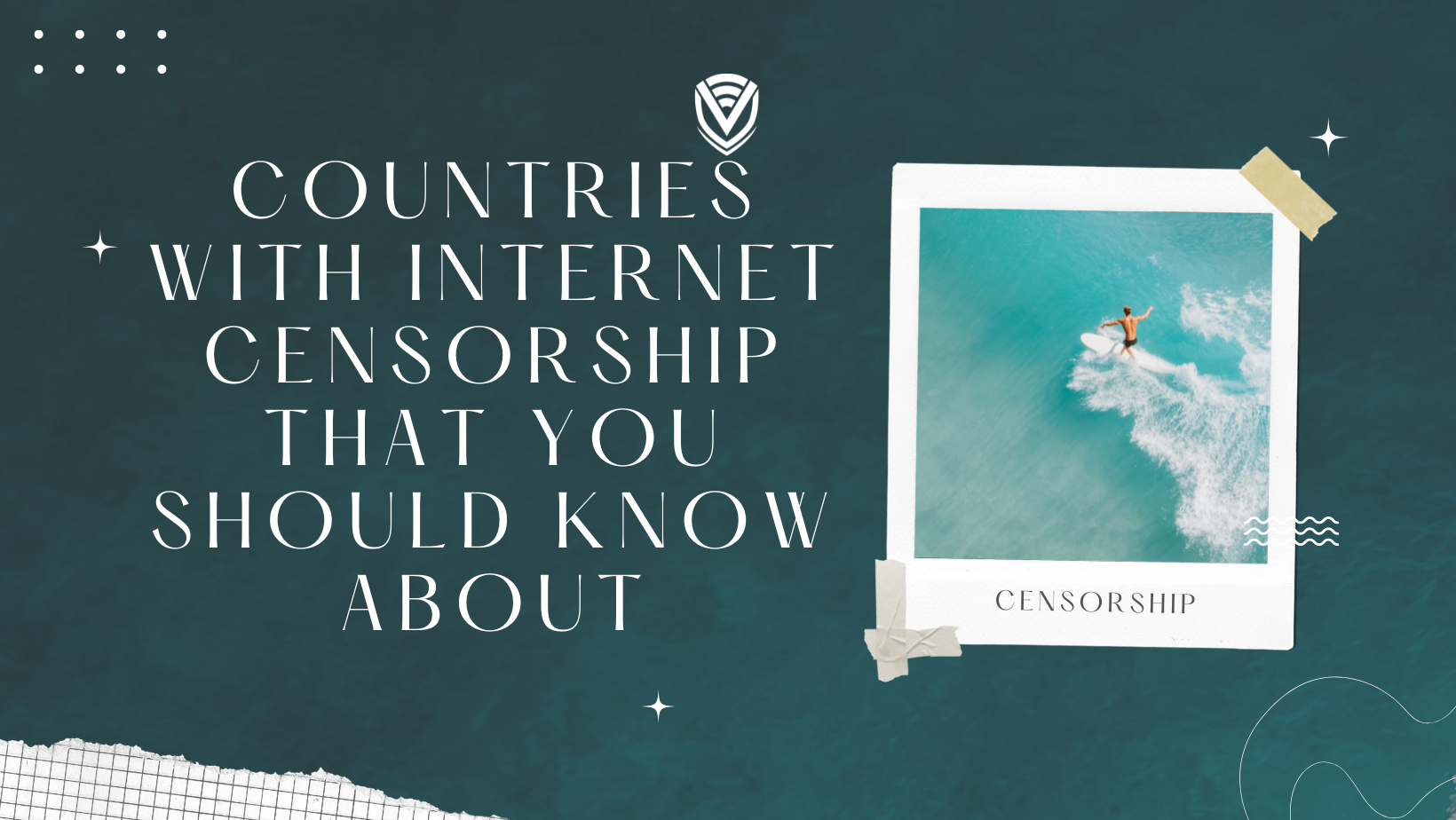 You might be enjoying your internet right now, browsing any website you can find online and connecting to anyone in the world without restriction. But you'll have a different perspective when you visit these countries. Different reasons propel Internet Censorship. While everything is available online, internet censorship puts limit access to certain websites that the regulators deem as undesirable. Individuals or big organizations can implement this for various reasons. Reasons can range from morality, religion, business, and politics, or from desires coming from good intentions to an attempt to suppress a country's access to information. When the internet is blocked by a country, it means that the networks are highly centralized, with a central routing system to receive all data. This is where all the filtering and controlling happens and the internet providers or government gets access to the main switch that can block the free passage of any data.
Let's take a look at some of the countries and their level of censorship.
Russia
The commonly known as the Russia internet censorship law was signed in July 2012 by the actual president of Russia, Vladimir Putin. The law mandates that all Russian internet service providers (ISPs) and website owners ban any material that the government considers illegal or harmful.
ISPs are required by law to block users from accessing websites that promote child pornography, extremism, suicide, and other topics that are thought to be harmful to the well-being of Russian people. Additionally, after receiving a request from law enforcement, the website owners only have 24 hours to remove any content that is not considered safe by the government. Making Russia one of the most controling countries over the internet.
Blocking sites that advocate drug abuse, child pornography, extremism, suicide, or any other information that the government believes is detrimental to the well-being of its citizens.
Saudi Arabia
Online material is strictly regulated and censored in Saudi Arabia, especially when it comes to subjects that are deemed sensitive or contentious. This includes any conversations that might potentially be critical of or threaten the power of the royal family as well as any political, social, and religious subjects that are judged incompatible with the nation's rigid interpretation of Islam.
In order to implement these restrictions, the government of this nation has put in place highly stringent laws and regulations. As a result, it can now monitor internet activity and impose access restrictions on websites and online content that it deems unpleasant or hazardous. Some of the most popular social media networks as Facebook, Twitter and Youtube have been blocked there.
Blocking any discussion regarding political, social, or religious topics incompatible with the Islamic beliefs or the royal family. But this also helped them wage a successful digital war against Al-Qaeda and other terrorists who try to use the internet to recruit people to believe in their ideologies.
Vietnam
Blocking any content that is anti-government or anti-communist that is ever read or watched by any of the citizens primarily driven by political reasons. Social media users and bloggers are also banned from investigating any leads about government websites or authorities.
Burma
The Burmese government has been known to censor online content and impose access restrictions on websites to manage the flow of information and stop the dissemination of opposing viewpoints. This includes limiting access to websites and platforms that are critical of the government or disclose human rights breaches committed by state actors.
Internet filtering technologies are one method the Burmese government employs to limit access to particular websites. When certain keywords or phrases are found in a website's content, these programs scan it and prevent access to it. Most of the websites that use words such as "democracy" or "freedom of speech," will possibly be restricted by the local government.
Email communications are monitored and filtered by the government as another means of limiting online information. Government agencies can monitor emails that are transmitted both within and outside of Burma. This implies that emails containing particular words or phrases may be banned before they reach their intended recipient.
Tunisia
The Tunisian government has implemented stringent regulations to monitor and regulate its residents' online activity. One of these measures is for internet service providers to report all bloggers' IP addresses and personal data to the authorities. As a result, bloggers who voice dissident views or criticism of the government risk harassment or legal action.
The Tunisian government monitors any material posted to the internet inside the nation and demands the submission of personal information. This implies that Tunisian residents may have their access to content prohibited if it is regarded to be critical of the government or violated certain laws or regulations.
Also, the Tunisian government keeps track of emails sent within the nation. This implies that government agencies may intercept and read emails containing words or phrases that are seen to be unfavourable of the government.
International human rights organizations have condemned these actions for violating the right to privacy and freedom of expression. In Tunisia, the opposition has also been quashed, and people's freedom of speech has been curtailed through the surveillance and regulation of online activities.
Turkmenistan
The strict censorship laws in Turkmenistan have been criticized by international organizations for their violation of freedom of expression and access to information. Many citizens have resorted to using Virtual Private Networks (VPNs) to bypass government censorship and access the internet freely.
As a result, the Turkmenistan government has implemented strict censorship laws to monitor and control internet usage within the country. They have blocked access to many sites, including social media platforms like Facebook and Twitter, as well as news outlets and political websites.
In addition to blocking websites, the Turkmenistan government also filters all email accounts in popular email services like Gmail, Yahoo, and Hotmail.
Iran
The government of Iran has implemented some of the most extensive and sophisticated internet censorship laws in the world. The government has complete control over the country's telecommunications infrastructure and Internet Service Providers (ISPs) and heavily regulates and censors access to the internet.
The government blocks access to numerous websites, including social media platforms such as Facebook, Twitter, and YouTube, as well as news and human rights websites. The government also restricts access to VPNs and other circumvention tools that could be used to bypass censorship.
Final Notes
Internet censorship remains a big issue when talking about freedom and liberty. However, it is good to know about these restrictions when you're deciding to travel or live for a while in these countries. It may be quite easy for the government to shut down any access to websites by turning off this switch but you can work around these blocks through the use of a VPN. Through VPN, you can encrypt your data and use a private network to mask your real location and access the internet without limit or restriction.
Check some other benefits of using VPNs here:
- A VPN Will Help Your Personal Data To Remain Personal
- VPN for Shopping - Virtual Private Network Shopping Guide
- Best VPN for Gaming That You Should Check-in 2023
Do you value your privacy online?
Use VPN Surf and surf safely and securely in the open waters of the internet.