You're here for one reason, and that's to know how to delete Snapchat. Simply deleting the application will not remove your account.
There can be many reasons why you wanted to delete your Snapchat account, but nonetheless we will give you the tips to do it. If you want to delete your account there are a few things you should know.
Once you delete your account it will be permanently deleted only after 30 days
If you have pictures or videos, better take a backup before deleting the account
Keep in mind that if you change your mind after deleting your account, you still can login and your account will be restored. So hold onto the login credentials just in case.
Let's get to it!
Step 1: Login to your Snapchat account
Go to the Snapchat accounts page from your computer and enter your email and password

Step 2: Click on "delete my account"
Step 3: Add your credentials
Now you will be prompted to add your credentials once again in order to delete your Snapchat account. After that press "Continue"
Step 4: Congratulations your account is deleted!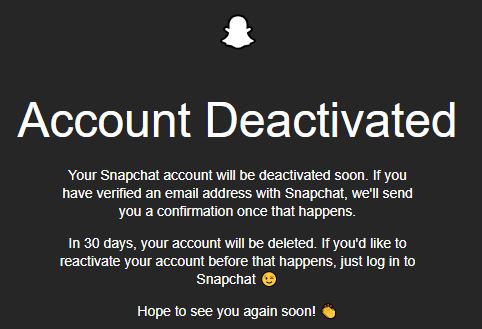 Let us know if it worked in the comments below!
Do you value your privacy online?
Use VPN Surf and surf safely and securely in the open waters of the internet.