Google the tech giant is one of the most richest and popular companies in the world. With the growth of technology, the value of data grows substantially. Your data is worth more than you think!
Google processes about 3.5 billion search queries each day. This means that Google knows you more than you know yourself (and that's not an over statement).
Google knows what your dream car is, what your favorite food and what your favorite game is (sometimes even before you knowing it). They have been collecting and processing your data for the past 15 years (since 2005).
Oh but I delete my search history, so this doesn't concern me!
Well that's not the case. While deleting browsing history only removes the history from your local devices, it won't remove from the Google servers. However there's a way to remove it completely so let's get right to it!
The things we will cover in this tutorial:
Deleting browsing history from Google Chrome
Deleting your Activity from Google
Stopping (pausing) Google from logging your activity
How to delete browsing history from Google Chrome?
On Google Chrome click the three dots on top right corner

Click on History > History (Or press Ctrl+H)
Select Clear browsing history
A box will appear. From the drop down menu you have the chance to delete the amount of history.
Check the text boxes you want chrome to remove including 'browsing history'
Click on clear data
By this point you have removed your browsing history from Google chrome. Now let's go ahead and delete the data permanently from Google servers.
How to delete search history from Google Activity
What you do online is yours and yours alone. Nobody needs to store that information without your consent. But before deleting the data forever it's better to take a backup first.
Note that: Once you delete your activity ALL your search history data from Google servers will be removed including the saved passwords. If you would like to take a backup follow the steps mentioned by Google.
Go to your google account
Click on "Data & personalization" (the red box)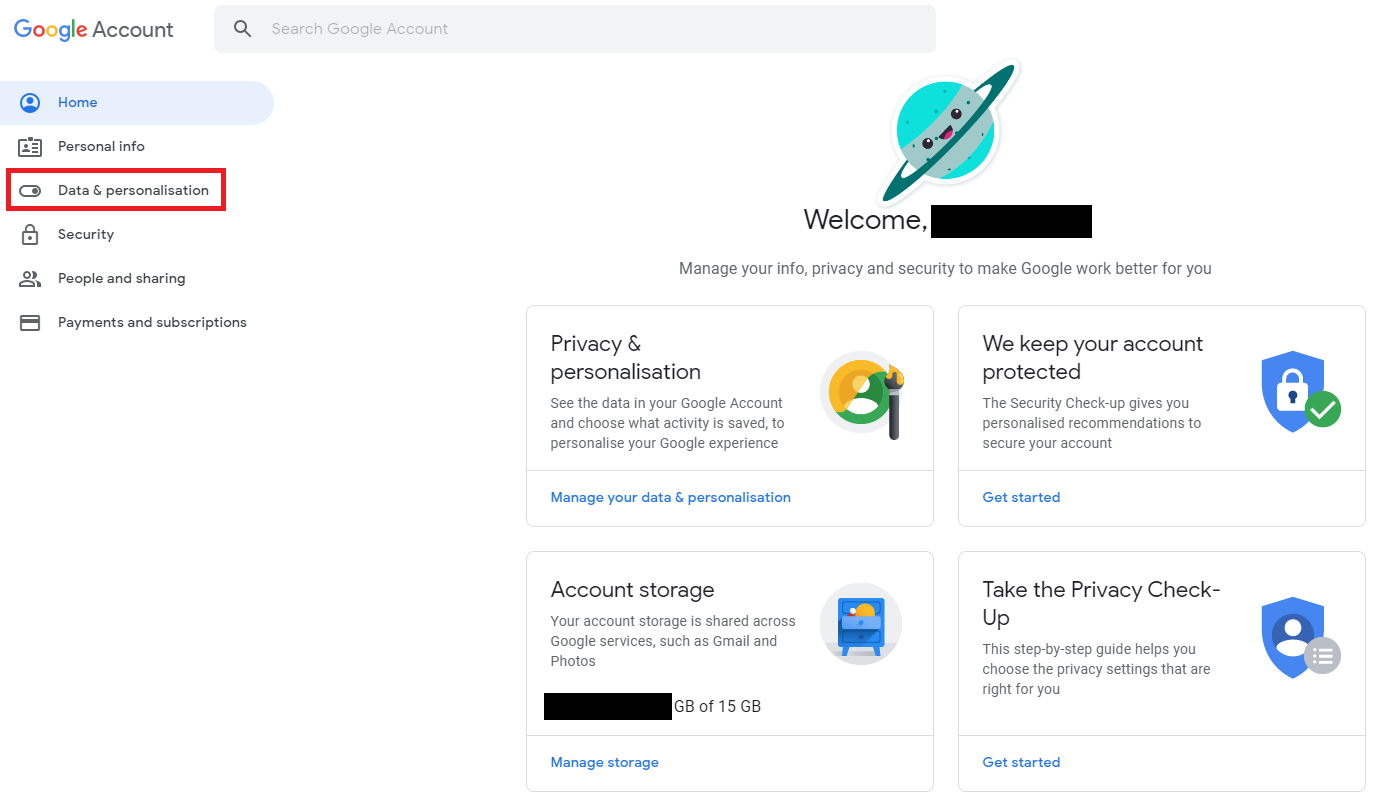 Now click on My Activity which is located under 'Activity and Timeline'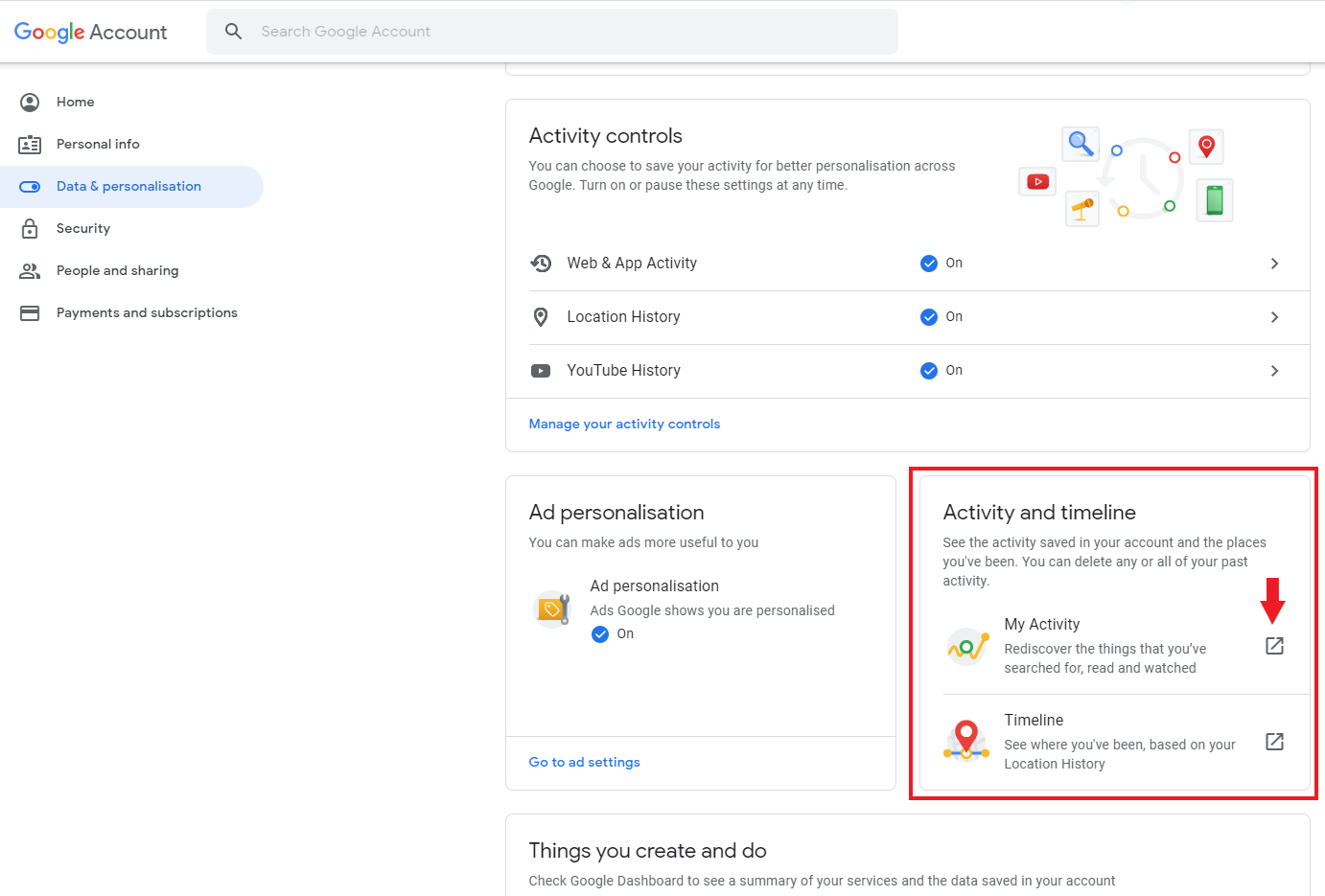 In the new page, click on the More (the three dots) and click 'Delete activity by'
Now you have the choice to delete your activity. You can delete the activity from the previous hour, day or everything (Always). There's also an option where you can delete the data within a time duration by going to custom range. However in this tutorial we will focus on deleting all the activity from google.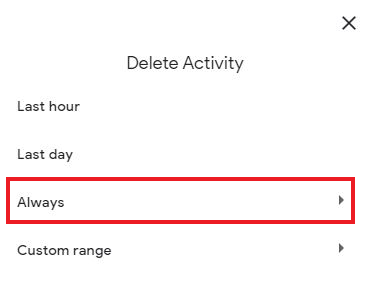 Now you will get a list of the products from which you can delete your activity from. Usually all the checkboxes are selected by default. (note that once the activity is deleted it's removed forever) Click on next.
Final step is to click 'delete'.
Congratz! You just deleted all your activity from Google.
Even though you have a clean slate now, once you start using Google and its services, it will again start logging your activity. So now let's go through the steps on how to stop (pause) Google from saving your activity.
How to pause (stop) Google from saving your activity
Google will not provide an option to permanently disable your activity, however you can 'pause' it from collecting further activity.
Go to 'Activity Controls' from google
There are a few switches on this page (as you see in the red box). Read carefully all of it and simply turn the switches to the left.
Once you click on the switch a new window will open. In this example we are turning off the 'Web & App Activity'. Once the new pop up window opens up click on 'Pause'.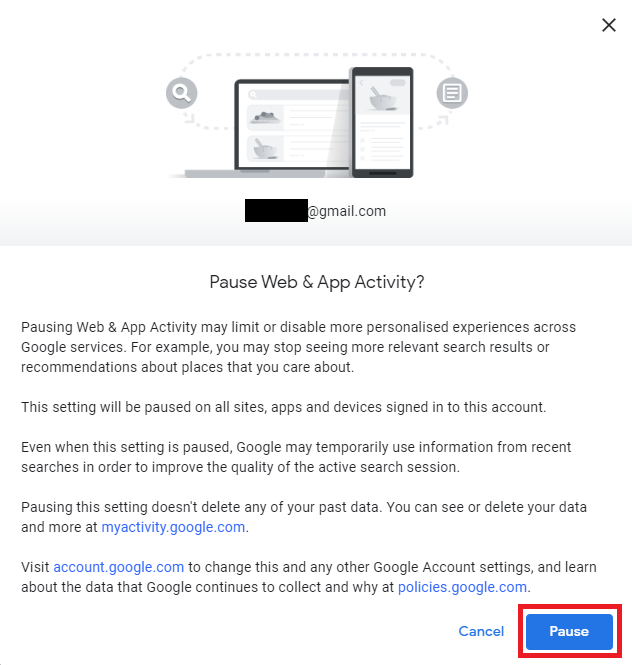 Note that when you pause the activity it might limit or disable some Google services. Carefully read the descriptions before pausing these activities.
Google uses these data to personalize your search results so that you will see the things that you would like to see. For example if you check your clothes from 'clothes.com' all the time, then whenever you have a clothes related search query, Google will rank 'clothes.com' higher on the search results.
However when you pause the activity, you might not get the personalized search results but a much broader result. Your favorite website might not show up in the first place.
Final thoughts
Deleting your history and removing your activity, you will be able to remove the data saved on Google permanently. Also if you will pause Google from collecting further activity, then it will prevent your future activities on getting saved.
With all of this in place you might think that it's possible to be invisible to Google. But in reality it's impossible to be completely invisible if you're using any of Googles services like Gmail, YouTube or Google search engine.
The only way to be completely invisible is to not use the internet. But today's world is intertwined with the internet making it extremely difficult. Let us know about your thoughts in the comments below.
Do you value your privacy online?
Use VPN Surf and surf safely and securely in the open waters of the internet.