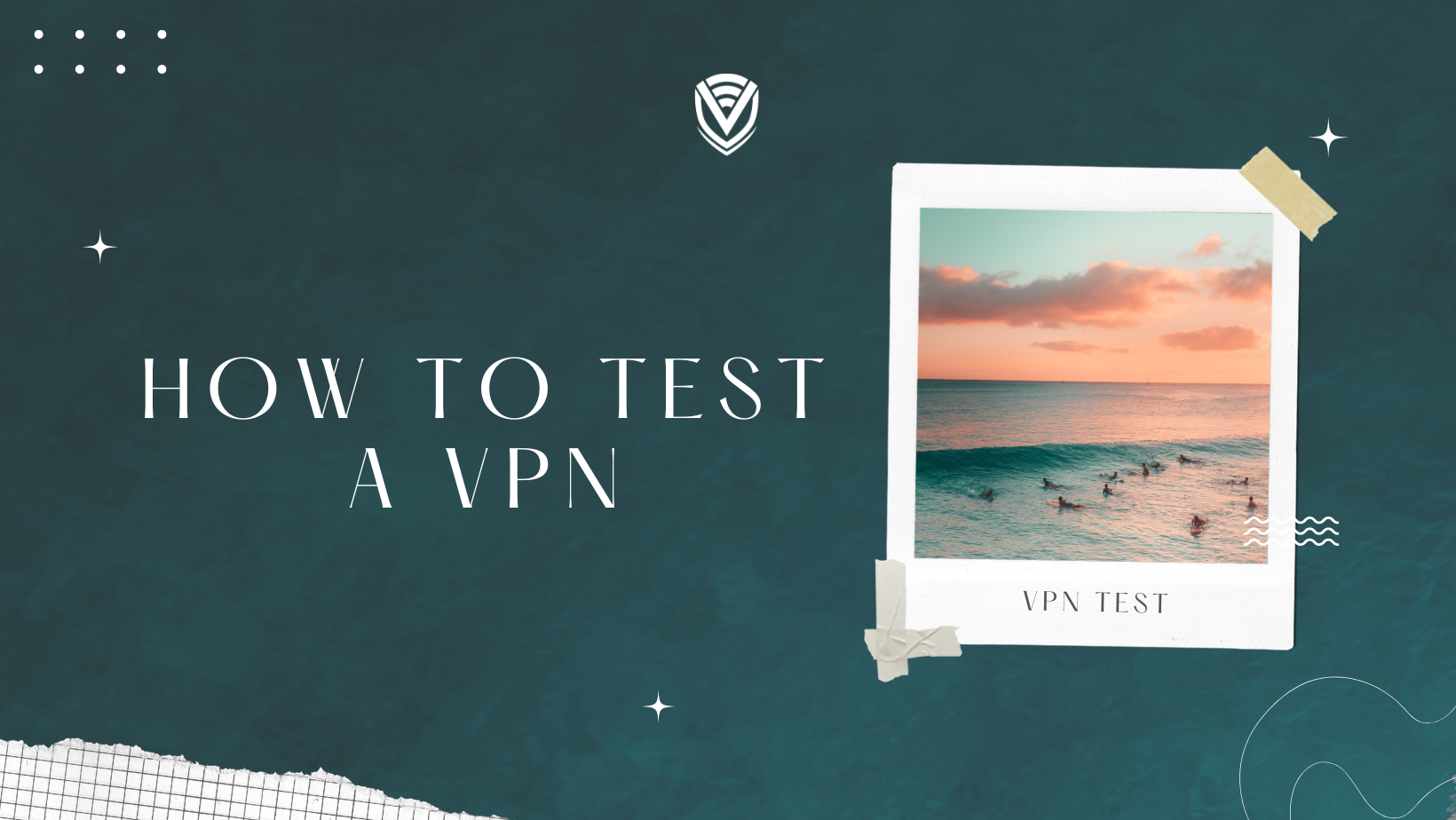 The main goal of using a VPN is to have your data securely transmitted over the internet by keeping you anonymous. These days, a handful of VPN providers are there in the market, all claiming to be the best. Yes, the VPN providers say they keep your data private and secure, but how can you be sure? Testing your VPN connection can be a legitimate and reliable way to check whether your provider is working as promised.
If you want to test your VPN, you're at the right place. Unfortunately, not all VPN providers keep their word, and many security solutions leak your IP address and DNS requests.
This article will guide you through all the tests you can do to verify that your VPN connection is protected from various leaks. We will test the VPN for:
IP Leaks

DNS leaks

WebRTC leaks

Speed tests
Seems a bit too technical? No worries, we will explain the easiest ways to check your VPN.
How to Check If the VPN is Working
Now we explain different ways to check that the VPN works properly in the system.
1. IP Leaks
Your IP address has a lot of information about you, like your location, websites you visit, and operating browser (plus much more). When using a VPN, your IP address is masked with the VPN provider's IP address, protecting your identity from snoopers.
While most VPN providers promise to protect your original IP address, it's not the case. To test the status of your IP address, go to our IP address test.
Note that it is necessary to test your VPN for IP address leaks when the VPN connection is active and reconnects to the internet. Most VPNs will leak your IP address while reconnecting to the internet.
So here are the steps you can take to test your VPN for leaks during reconnecting:
Stay connected to your VPN and disconnect the internet (turn off WIFI or unplug the Ethernet cable)

Now connect back to the internet. However, open multiple tabs of IP address testing web pages and refresh each as quickly as possible.

Once the VPN reconnects, stop refreshing and check the results.

If your real IP address is seen in any of the tabs, there's a DNS leak.
Get a reliable VPN provider if you don't want any IP leaks.
2. DNS Leaks
DNS stands for domain name system and translates domain names into IP addresses. However, sometimes the translation part leaks out of the VPN tunnel. This results in your original IP address and location being exposed to the outside world.
Sometimes your IP address is hidden, but your DNS address can also reveal your information, like your location. The DNS server changes plain text URLs into IP addresses. If you're not using a VPN, then this process is handled by your ISP seryou'reSo they will have direct access to see which websites you have accessed. If there's a DNS leak, anyone snooping on your traffic will access that information.
To run a DNS leak test, connect to a VPN server located out of your country. There are many sites out there to check for DNS leaks, as the DNS leak test, but one of my favourites is ipleak.net.
You can see your IP and DNS addresses on this site. If you see any of your local DNS addresses, IP addresses, location, and other details matching your ISP, then your VPN has a DNS leak.
Note that DNS leaks do not expose your IP address. Instead, it leaks the IP address and location of your Internet Service Provider, which you can use to track your IP address easily.
3. WebRTS Leaks
WebRTC or Web Real-Time Communications is built-in with the most popular web browsers (like Firefox, Brave, Google Chrome, and Opera), enabling real-time communication. These include voice conversations, video chat, but it presents some vulnerabilities when using a VPN. Some websites can use this feature to look past your VPN and discover your original IP address. After that, they can provide or block content based on your real geo-location. When your IP address leaks out via WebRTC APIs, a WeBRTC leak occurs, and you can test it for yourself.
For Google Chrome, this comes with WebRTC enabled by default since Chrome 23 version. However, try this test from perfect privacy to test if your VPN has leeks from WebRTC. To combat WebRTC leaks, use a browser that doesn't have WebRTC. You can find the full list of browsers that exclude it on Wikipedia. Also, disabling WebRTC from your browsers will result in no more leaks when using the VPN. You can check manually if your WebRTS is leaking or not.
Checking WebRTC leaks
Here is how you can check for WebRTC leaks in your VPN:
Find out your original IP address by Googling "What's my IP?" and note that down.

Connect to your VPN now and refresh the page to find another IP address that is newly allocated to you. Along with the IP, you will also find a new location assigned to you by the VPN or based on the country you selected.

Alternatively, you can go to

WebRTC Testing

to check your IP address and there, you will find the 'Your IP addresses – WebRTC detection' option.

Under that option, there will be a public IP and private IP addresses. The Private IP will be different from your Public IP address. If the private IP looks like this- 192.xxx with alpha-numeric characters, then your WebRTS isn't leaking.
But if your WebRTS is leaking, you can install the WebRTC Network Limiter browser extension in Chrome that will exclude the WebRTC from your browser.
4. VPN Speed Test
While security and privacy are major factors to consider when using a VPN, we can't forget about the speed. If a VPN has extremely good protection but is slower than a snail (not considering turbo), then there's no point in having it in the first place.
Many factors affect the speed of a VPNs speed, and here we will discuss the major tests that you can do. You also go through our website to learn about the internet speed while using a VPN.
Doing a VPN Test to Check for IP and DNS Leaks
You can also do a VPN test to check for the potential IP or DNS leaks:
Know the original IP address that your ISP has given to you. Turn off your VPN right now temporarily and Google "What's my IP?". They will show you the IP address you are currently using.

Note down your real IP address.

Turn on your VPN again and Google "What's my IP?" again.

Now you will see a different IP address and the new country your VPN is connected to. But if Google shows your original IP address, that means it hasn't changed and is leaking on your VPN.

However, along with the IP tests, DNS tests fail too, and it does not detect any leaks in the DNS. So, you have to try a separate DNS test. DNS can also reveal your identity when you are connected to the server.

DNS will show you the new location and IP address you chose through the VPN. On the page where we have shared the link in number 6 step, you can choose the Extended Test option to dig deeper in the DNS leak test, which will take a few minutes to complete. If the new result shows you the new country and IP address you chose, your VPN is not leaking.
This is the IP and DNS leaks in VPNs, but there is one more downside that you can find in your VPN server or client.
ISP limitations
No matter how good your VPN would be if your ISP provides slower internet connections or you're using a slower plan. Your ISP controls the overall speed of the internet.
Physical Distance to the Server
The physical distance that data has to travel plays a big role. To explain this phenomenon, check the pictures below.
As you can see the connectivity in the image below, the server is connected to the New York VPN.

As you can see, there is quite a big difference when moving through continents. So here's another reference for you when I am connected to our VPN server in Germany.

Level of Encryption
Did you know that VPN speed decreases when the encryption level increases? Yes, that's why OpenVPN protocol is more secure than PPTP protocol but has significantly lesser speed. Suppose most of the tasks you do on the internet don't need a high level of encryption. However, we at VPN Surf use the IKEv2 protocol, the balanced protocol with the best speeds and security.
Number of Active Users on the VPN Server
Many popular VPN service providers have their servers overloaded with users, which results in slow speeds. Before investing in a VPN, please ensure they provide a server status page with real-time bandwidth information.
Conclusions
Now you know the basics of getting a VPN tested and check if it's worth it. There are many advantages of using a VPN, so take your time picking the ones out there by doing some testing. However, if you encounter any VPN leaks, you can contact the VPN providers' support teams to fix them. If they can't fix the problem, move on to a quality VPN provider.
Let us know in the comments below if you found this helpful and if you know any new ways to test a VPN connection.
People also read:
Do you value your privacy online?
Use VPN Surf and surf safely and securely in the open waters of the internet.