How A VPN Helps With Your Privacy
VPN
2016-01-06 16:27:35
- by
Sarah Nguyen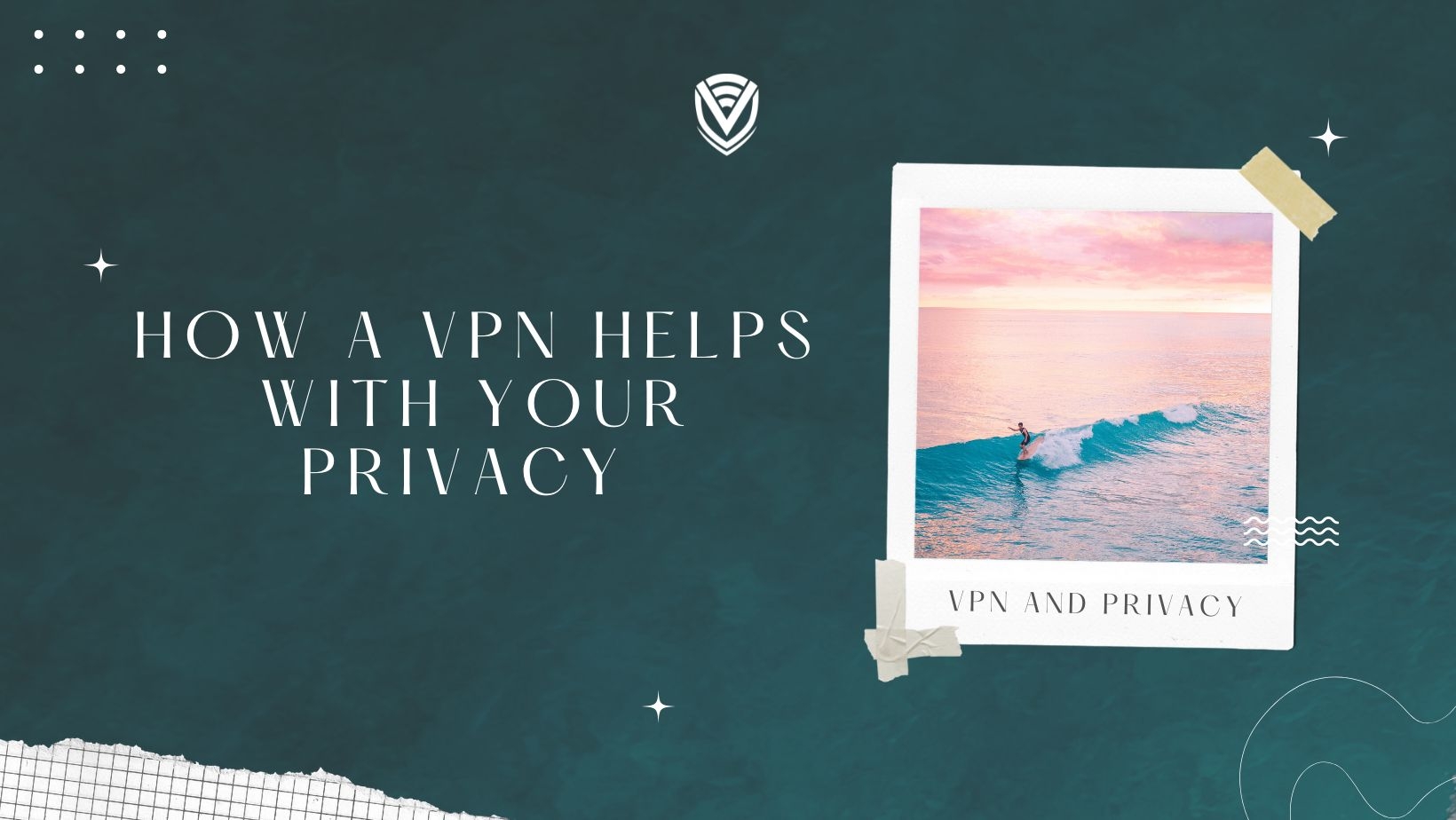 So you're concerned about your privacy while surfing the web? Well, it's good to see you're taking preventive measures beforehand to ensure no data breach on your system. With the internet's extensive use, cybercriminals have a handful of loopholes to intervene in your privacy. Not only that but also every other website you visit asks to save your information through cookies. Saving cache and cookies is not wrong, though, as it does enhance a website's performance and offer a better user experience.
The problem starts when these sites use your data in the wrong way. Yes, due to their different monetization policies, they sell the data. Then, this data is used to create a buyer persona to figure out who you are as a person, and eventually to understand how you're going to use their product or service (that's why you see personalized ADs even on Facebook).
Hence, it's important to have sound knowledge of online security and what data exactly you're providing to a website. Using a Virtual Private Network (VPN) is the most effective way to keep your browsing activity safe. A VPN does not permit the site bots to track you back to your system upon entering any website, so you get full protection against your privacy. Wondering how? Stay glued.
What is VPN?
A Virtual Private Network is what keeps your browsing activities anonymous by masking the actual details like your computer's IP or location. Alongside, it works like an anywhere door to give you access to geo-blocked websites while keeping your privacy in mind.
When you use a VPN to access a website, it shows the server location of your VPN instead of your real one. In the same way, VPN providers use different IP addresses to keep their users' privacy safe.
However, some users have faced data breaches even after using a VPN. In every case, either the VPN was free or not from any legitimate provider. So, choosing a trustworthy VPN is mandatory if you want to use the strength of the internet to its full potential. Find more information here.
How Does a VPN Work?
We've already mentioned that VPN masks your location or other details. But, how do they do it? Well, when you visit a website using a VPN, it creates a secure and encrypted tunnel between the user and the receiver's website. This is done over the internet for smartphones, computers, tablets, etc.
This secure network protocol ensures that all your data is encrypted and no hacker or cyber-criminal can get access to it. VPN providers make secure tunneling possible by redirecting your connection to their VPN server of the country you've chosen earlier. This process makes you appear as a 'local' visitor to any website while keeping your real information secured. Hence, you become effectively anonymous as your IP gets replaced with the IP address of the same VPN server.
However, the best VPN will work in the same way on different devices. When you want to keep your online activity safe, sign up with any of the VPNs available on the market. Make sure you use a paid one and check the terms and conditions well to understand whether the provider saves unnecessary data or not.
How Does a VPN Help You with Your Privacy?
Here we've mentioned how VPN helps to safeguard your data from anonymous web users. Go through the list below to understand all these aspects through which VPN helps you with your privacy.
Hides Your IP Address and Location
You might know that when you visit a website or access any application, it stores the IP address of your system in its database. In this case, you might be in trouble if you open any content which is geo-blocked in your location. Yes, it's because your Internet Service Provider also has complete knowledge of the websites you visit. To avoid any such issues, you must use a trusted VPN.
With a VPN connection, your original IP address will be masked with one of the VPN server IP addresses. This way, your IP address and location will not be visible to websites and applications you visit, but instead, the location and IP of the VPN server will be shown. That's why using a VPN connection is always recommended while visiting geo-blocked websites.
Encrypts your communications
When you use a public Wi-Fi network, it makes your system vulnerable to a data breach. It's because there are hackers all over such networks. If you don't use a secure tunnel which a trusted VPN does, you may open access to your device easily available. In this case, using a VPN will protect you from losing your personal information.
A VPN creates a secured server between you and the Wi-Fi hotspot you're using to keep your data safe. Yes, VPN Surf servers use trusted SSL certifications to protect your data from those prying eyes. Browse freely through Wi-Fi hotspots with the comfort that you can't be tracked or monitored while using VPN Surf.
Did you know that your identity remains vulnerable to anonymous attacks even while doing simple net banking? Yes, not only that, there are thousands of online activities we perform each day without knowing the potential threats. Be it clicking a link that you've received in your email or clicking an Ad on a suspicious website- anything can make your identity public.
However, it's quite hectic to stay conscious now and then while accessing the web or any application. That's where VPN comes into play. Since it creates a virtual secured room between your system and the application you're trying to use, no hacker can intrude on your privacy. Our high-strength VPN encryption protects not only your web browser but also your emails, Skype conversations, online banking, and everything you do or see online - whether you are at home, in the office, in a cafe, or traveling the world. Give yourself some added anonymity with VPN Surf.
Stay safe from hackers & cyberpunk
As we already mentioned, how a hacker can access your details through your system, you must understand why your data is unsafe in these hands to know the importance of using a secured VPN connection. Well, for instance, you're watching any content on a website, which doesn't use the "https" protocol. In this case, if you don't use a VPN, it will store your IP address and location as well from where you're using the website.
Now hackers can easily find out these details about you, which they may sell to data mining companies later or can use in the wrong way. Even these little details can lead to a potential security breach like losing your passwords to different accounts. But, once you're connected to the VPN, all your data is encrypted and indecipherable, so you won't have to worry about passwords and other sensitive information being intercepted by third parties. Read more information here about how will a VPN protect you from hackers.
We don't monitor or log your activities
While choosing a VPN provider, you should make sure that they don't save your browsing history. Yes, several VPN users have complained about getting their security compromised. It's because they were using a free VPN or one from an unauthorized source. Hence, you must always choose a trusted VPN provider with good reviews from the users. Remember to go through the privacy policy carefully to understand what all data your service provider is storing. You should also check for what circumstances your browsing details will be shared and with whom to keep yourself free from future trouble. Generally, well-reputed VPN providers don't save or monitor your online activity logs.
However, online privacy is not always well understood, and laws are ever-changing. At VPN Surf, we firmly believe privacy is a fundamental right. We never share your details with anyone and don't keep any logs of your activities online.
While accessing a geo-blocked website, your system can attract legal complications. Also, you miss out on a plethora of great content because of geo-blocking. Geo-targeting is also a matter of concern if you don't want personalized ads or other content on your feed. Sometimes the ads are shown based on the data about your interest. This becomes too irritating when you receive hundreds of spammy content. You may get charged differently due to geo-targeting while opening blocked content.
However, all these issues can be fixed with one solution only- using a trusted VPN service. By hiding your IP address and location, VPN Surf removes third-party sites and services to charge different prices or display targeted advertising based on your location.
What's More?
Now you know about all the aspects through which a VPN safeguards your privacy. Of course, a VPN is not the be-all and end-all solution; there are many other ways one could protect their online privacy, such as using a Tor network or proxy servers. Nevertheless, using a VPN is the simplest and most appropriate effective solution for all internet users, making it the best choice.
Find out noe more about VPNs!
- What is a VPN Kill Switch and Why Should You Use It?
- Is Your VPN Not Connecting? Here's Why
Do you value your privacy online?
Use VPN Surf and surf safely and securely in the open waters of the internet.