Microsoft is constantly working on fixing bugs and adding new features to the Windows operating system. Although the majority of changes made are for the betterment of the OS, there are some that do affect it in a more negative way.
Such was the Wi-Fi Sense feature which was present in the older versions of Windows 10 operating system. Microsoft attempted to solve a modern annoyance, however, this new feature created a mini uproar in the cybersecurity community and for a good reason.
What is Wi-Fi Sense?
Wi-Fi Sense is a tool that was available in Windows 10 version 1709 and the ones before it. This feature worked by automatically sharing the network security key you type in when connecting to a Wi-Fi network with all your contacts.
This process only would have been completed if you ticked the "Share network with my contacts" tick-box under the field where you type in your password while connecting to the network for the first time.
In the newer versions of Windows 10, this option has been replaced with the "Connect automatically" tick-box.
Let's dive into some details about this feature. It was enabled by default when installing Windows 10 and signing in to a Microsoft account as it wouldn't work with a local account.
The contacts that Wi-Fi sense would share network keys with are as follows:
Skype contacts
Outlook contacts
Facebook friends (permission to access your Facebook account needs to be granted first)
Once your wireless network is shared, all of your above-mentioned contacts will have access to the network; you cannot select specific people to share it with.
Fortunately, network passwords were not directly shown to your contacts. Instead, the network security key will be encrypted and stored on a secure Microsoft server once Wi-Fi Sense is enabled for a network.
The password is sent to the contacts in an encrypted form and is decrypted behind the scenes. There is a possibility that the decrypted version of the password can be seen by digging through the registry, however, that requires expert-level knowledge of computer technology.
How secure is Wi-Fi sense?
Although discontinued, the feature itself looked quite safe to use for an average PC user from a standpoint of cybersecurity, however, for optimal security, especially in a corporate setting, the tool still needed to be disabled.
The passwords were not actually shown directly to the contacts and were stored in an encrypted file on a Microsoft server.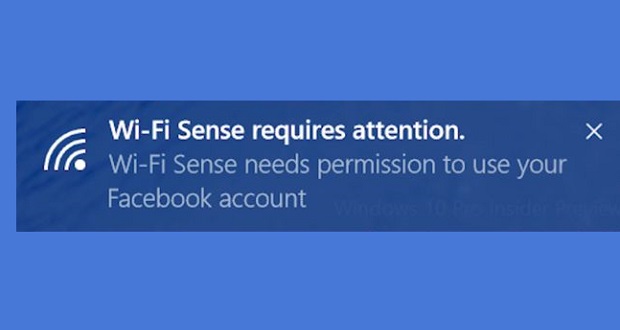 Microsoft did state that Wi-Fi Sense shared your passwords only with direct friends/contacts, and not friends-of-friends/contacts-of-contacts. This picture is best painted with an example.
If user A is on your contact list and user B is on user A's contact list but not on yours, user A will not be able to share access to your network with user B using Wi-Fi Sense.
Another cybersecurity-friendly feature of Wi-Fi sense was that it did not share network keys of Wi-Fi hotspots secured by additional authentication protocols, such as corporate networks using 802.1x EAP.
On the other hand, if the security measure applied to your office network is a simple WPA/WPA2 key, it is best to not share it using Wi-Fi Sense.
There are, however, some major drawbacks this tool has when regarding cybersecurity. As you may already know, when a Wi-Fi password is changed, all devices that have the network security key saved must reconnect as they do not have the new passkey. This, however, is not the case for Wi-Fi sense which understandably made many security-conscious users uneasy.
Since your contacts don't have your actual password but instead have the authorization to ask Wi-Fi Sense service to supply it on their behalf, changing your password later on would not keep them out.
Wi-Fi sense would simply learn the new password from you and provide it for them in the future.
The only way to stop your network passkey from being crowdsourced (yes, that's what Microsoft themselves called it) was to change the name of the network, also known as its SSID (i.e. Service Set Identifier).
The new network name needed to include the text "_optout" somewhere within it. For example, from "MyNetwork" to "MyNetwork_optout".
How to disable Wi-Fi Sense?
As the service was discontinued after Windows 10 version 1709, if you have you have version 1803 or any later one, you are in the green. However, if you have an older version of Windows 10 and do not wish to upgrade to a newer one, here's how to disable Wi-Fi sense.
First, open the Start menu and click on "Settings" (the gear icon). A window will open with different categories you can choose from.
Click on "Network & Internet" and make sure that "Wi-Fi" is selected from the left pane of the newly opened window.
Next, click on "Manage Wi-Fi settings" and another window will open.
Within this window, you can turn on and off Wi-Fi Sense features and decide which contacts/friends you want to share your network passkeys with*
*Do not forget that you can only choose between the three supported platforms and not the specific individuals you want to share with.
Always keep yourself safe when on the internet, and the best place to start is from securing your home WIFI.
Stay safe!
Do you value your privacy online?
Use VPN Surf and surf safely and securely in the open waters of the internet.