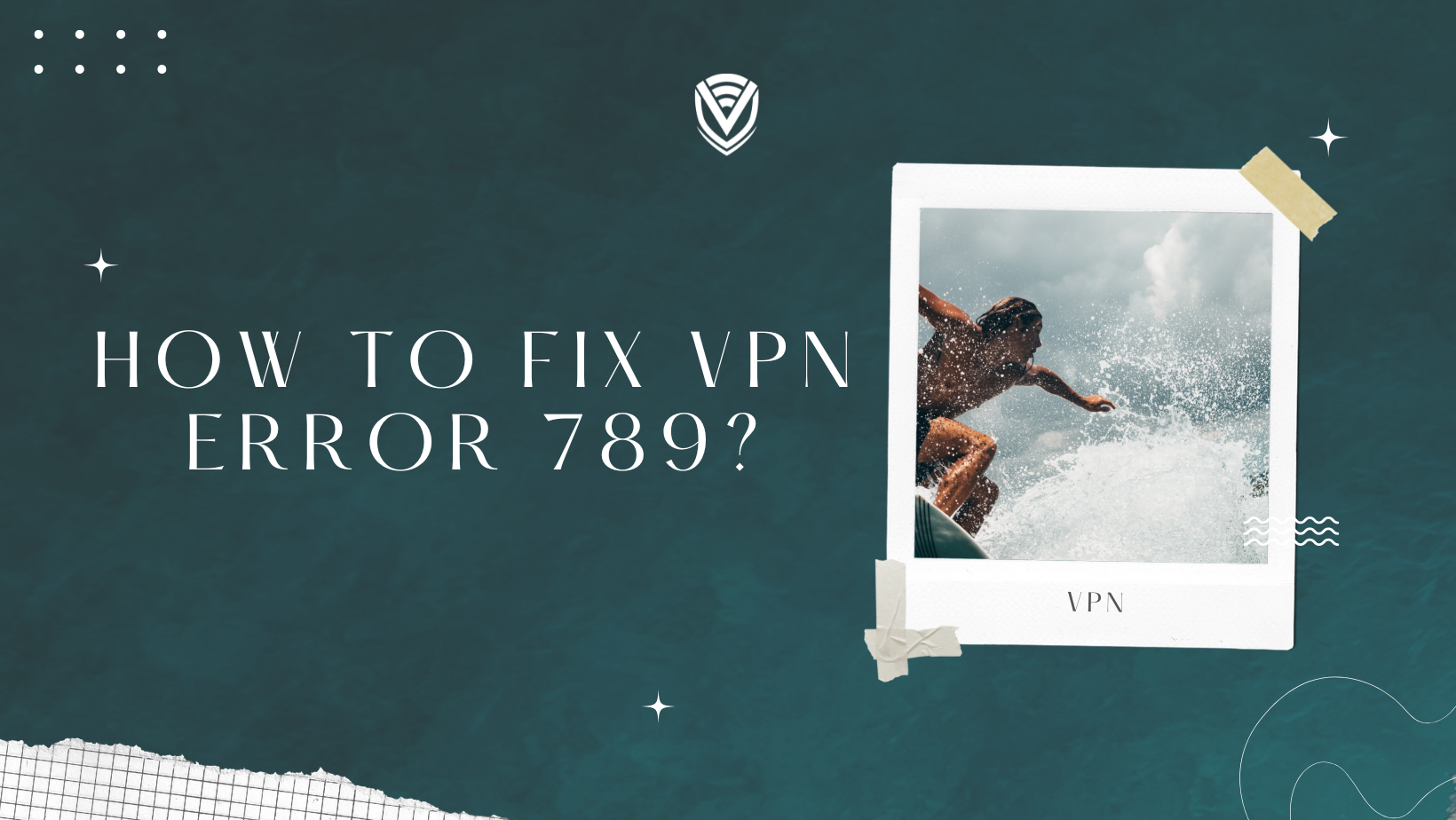 If you are a frequent computer user, you probably have encountered VPN Error 789. This is a common problem and error that occurs on single-user computers.
The error occurs when the PC user attempts to use a VPN solution while utilizing the Microsoft Windows functionality. The VPN Error 789 is common in Windows 7 and Windows 10 Operating Systems. As the error is common, one might be prompted to ask why one would go through the struggle and process of solving the error.
Why use a VPN?
A VPN is a Virtual Private Network. As the name suggests, it allows one to have online privacy. The VPN achieves privacy and anonymity by creating a private network operating on Public Internet Connectivity. This means that despite being on the Wide Web, one is on a scaled-down network.
As technology advances, different VPNs have been designed. They come with different functionalities, depending on the desired results. Some are free, while others are paid. In most cases, the efficiency of the VPN depends on its type, design, and nature of availability to the public.
It can be argued that is probably, without a doubt, a paid-for VPN is more effective and efficient compared to a free one. As mentioned, some VPNs are free, with some limitations, whereas others come with a small fee giving the full suite of features.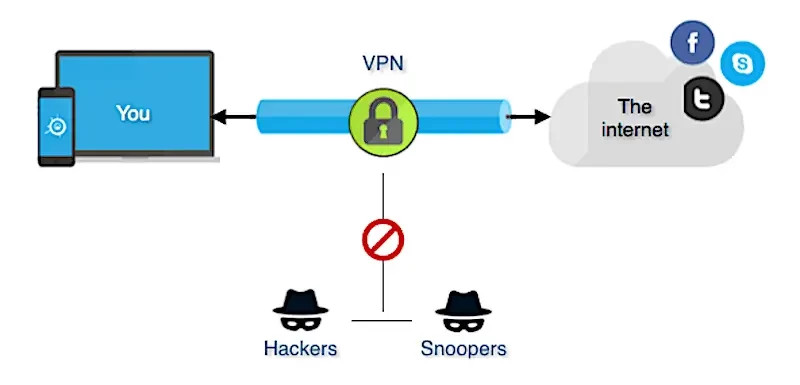 Different users attest to the challenge of getting errors using the VPNs mentioned above. Different reasons lead to these errors and will be mentioned in the following sections. The common error is VPN Error 789.
When using a personal computer, the error reads, "VPN Error 789: The L2TP Connection Attempt Failed."
This is one error that should not send shivers down your spine, as I will be providing the best solutions for the error. The solutions are effective and work in a minute of troubleshooting. Even though solving it is easy, it is important to understand some of the causes of Error 789.
Possible Causes of VPN Error 789 in Windows 7/10
As previously mentioned, Error 789 occurs when a computer user tries to initiate a connection to a Layer 2 Tunnelling Protocol (L2TP). If the error occurs while trying to establish a connection, it should be obvious that there is a problem with the computer system or the VPN itself.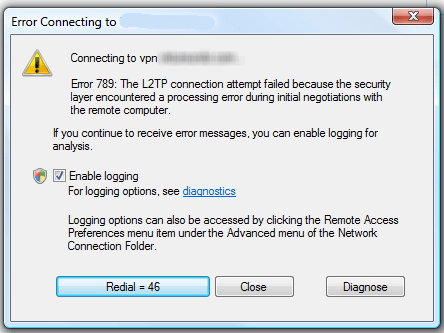 On one side, it could indicate that your computer is wrongly configured to connect to the VPN. On the other side, it could indicate that the VPN being used is not functioning correctly and, therefore, rejects connections from the PC.
When the computer is configured wrongly, any attempts meant to connect to the VPN are dropped before they reach any server, for instance.
Existence of NAT in the Network
This is the first cause of Error 789. It occurs when the PC, the VPN client, or the PC server is logically behind a Network Address Translation. If the correcting NAT is not implemented, requests are blocked, and network addresses are not resolved as they should be translated.
Machine Certificate Error
When the Machine or PC certificate or that of the root machine is not visible in the network or does not have the right authentication protocols, a machine error occurs, which could lead to Error 789, it is important to note that when a machine certificate is not visible, it is unavailable in the network.
Missing Registry keys
When Registry keys are missing, then it means that your machine will keep losing its connection to the VPN, prompting the occurrence of Error 789. When Registry keys are missing, it is possible to key them in using the Registry Editor.
Disabled IPsec Keying Modules and Policy Agents
When these two entities are disabled or stopped, the VPN does not function. This is because they are necessary for the functioning of the self-hosted VPNs. Therefore, when the two entities are unavailable for utilization, Error 789 occurs.
Fixing VPN Error 789
The solutions to the error are easy if the right troubleshooting instructions are followed. In the Information technology world and Computer networking, most solutions are found through the restarting of computer systems.
This is the first solution; to some people, it might sound like a non-solution, but it has been found to work. Therefore, when faced with VPN Error 789, you first want to restart your computer and try to connect to the VPN again. If the error does not appear, you have solved the problem there.
If the problem persists even after the restart, the following troubleshooting guidelines should help you solve the problem. It is important to note that one can try only some solutions, as the first could be enough to settle your headache.
Solution-1: Resetting Network Adaptors
Error 789 can occur in the Computing World due to an unstable network. This can arise as a result of computer Network Adaptors. When the network adaptors are not working correctly, the computer's initiated communication with the VPN will not flow smoothly. This causes interruptions that will lead to VPN Error 789.
One needs to readjust the network adaptor to ensure that the problem is not with the network adaptors. The device manager of the computer does this.
Once you are there, all you need to do is uninstall and reinstall the drivers. Make sure that the drivers you reinstall are compatible with your computer.
Guide to Uninstall and Reinstall Network Drivers on Your Computer
Right, Click on the Start Menu. Then select Device Manager. Or Press Windows key Plus R. This opens the run command > In the Pop-Up window, type devmgmt.msc and press ENTER.
A User Account Control Prompt might appear. Click YES to proceed.
After the above steps, The Device Management Screen will appear. Using the Scroll up and Down keys, Scroll down to Network Adaptor. Click it to extend the drop-down Menu.
Right Click on Network Adaptor and select Uninstall from the options presented.
Click OK and wait for the initiated process to Complete.
Once completed, restart your computer to reinstall the Uninstalled Network Adaptor.
Once completed, see if VPN Error 789 still occurs. If the problem still exists, move on to Solution 2 below.
Solution 2: Certificate Verification
When there is a misconfiguration of certificates or the pre-shared key from the client or server, VPN error 789 might occur. To ensure this does not happen, confirm proper configuration and that the right certificate is utilized on both the client and server sides. If a pre-shared key is used, ensure the correct one is utilized on both sides.
Solution-3: UDPE Encapsulation Registry Key
This solution is needed when the server and client are situated behind NAT. in this case, you must build and construct the AssumeUDPEncapsulationContextOnSendRule Registry Key.
Getting Started with AssumeUDPEncapsulationContextOnSendRule Registry Key
Press Windows Key + R. This will open Run Dialog Box. Type Regedit and press ENTER. This will open the Registry Editor.
Once the Registry Editor Appears, use the following path as shown below;
HKEY_LOCAL MACHINE > SYSTEM > CurrentControlSet > Services > PolicyAgent
Once at Policy Agent as directed in the above path, Right-click on the space and select New-DWORD (32-Bit).
Name the now-created DWORD as AssumeUDPEncapsulationContextOnSendRule. Press Enter to create it as the new Registry value.
Double Click on the created value and set its value to 2 and the base of the same to hexadecimal. Then click OK.
Now Restart Your System to check if VPN ERROR 789 is resolved.
Solution-4: Enabling IPsec and Policy Agent Services
In most cases, VPN Error 789 occurs due to disabled IPsec and Policy Agent Services. The guide below directs you to enable IPsec and Policy Agent Services.
Guide on Enabling IPsec and Policy Agent Services
Press Windows Button + R. This will open RUN Dialog Box. Type services.msc and press ENTER.
The Services screen will appear. Scroll down to look for IKE and AuthIP IPsec Keying Modules. Double-click on each to see if they are enabled or disabled.
On the General tab of the IPsec and Policy Agent Services, Enable Automatic Start-Up Type.
Restart your PC and check if VPN Error 789 is resolved.
Conclusion
VPN Error 789 can be resolved by following the four methods outlined above. It is important to note that troubleshooting can be stopped once the problem is solved. For instance, if solution-1 works, you can go only some way to solution-4.
You might face a similar error:VPN error 809; here's how to fix this issue.
Frequently Asked Questions
1. Which has failed when the error code returned on failure is 789?
VPN error 789 appears when a Windows system isn't configured properly using the L2TP protocol. This error can be fixed with a quick network adapter reset from Device Manager, and as a fallback solution, the IPSec configuration should be changed.
2. How do I fix the L2TP connection attempt that failed because of security?
Method 1: Uninstall the latest security updates.
Method 2: Turn on the Microsoft CHAP v2 Protocol.
Method 3: Turn on the LCP Protocol Extensions.
Method 4: By Restarting IPSec Service.
Method 5: By Reinstalling the Network Adapter.
3. What does it mean when the L2TP connection fails?
If the PPP settings are incorrect, you can see this error when deactivating the Microsoft CHAP v2 protocol.
4. What ports need to be open for L2TP VPN?
L2TP, by default, utilizes ESP IP Protocol 50 and IPSec, which both need UDP ports 500 and 4500. Mobile VPN with L2TP needs only UDP port 1701 if IPSec is off.
5. What is L2TP in networking?
Internet service providers (ISPs) employ Layer Two Tunneling Protocol (L2TP), an extension of Point-to-Point Tunneling Protocol (PPTP), to allow virtual private networks (VPNs). L2TP has to use an encryption protocol to communicate within the tunnel to maintain security and privacy.
Check out also:
Do you value your privacy online?
Use VPN Surf and surf safely and securely in the open waters of the internet.