VPN Error 720: Common Causes and Ways to Resolve It
VPN
2023-02-17 07:41:39
- by
Rachel Lee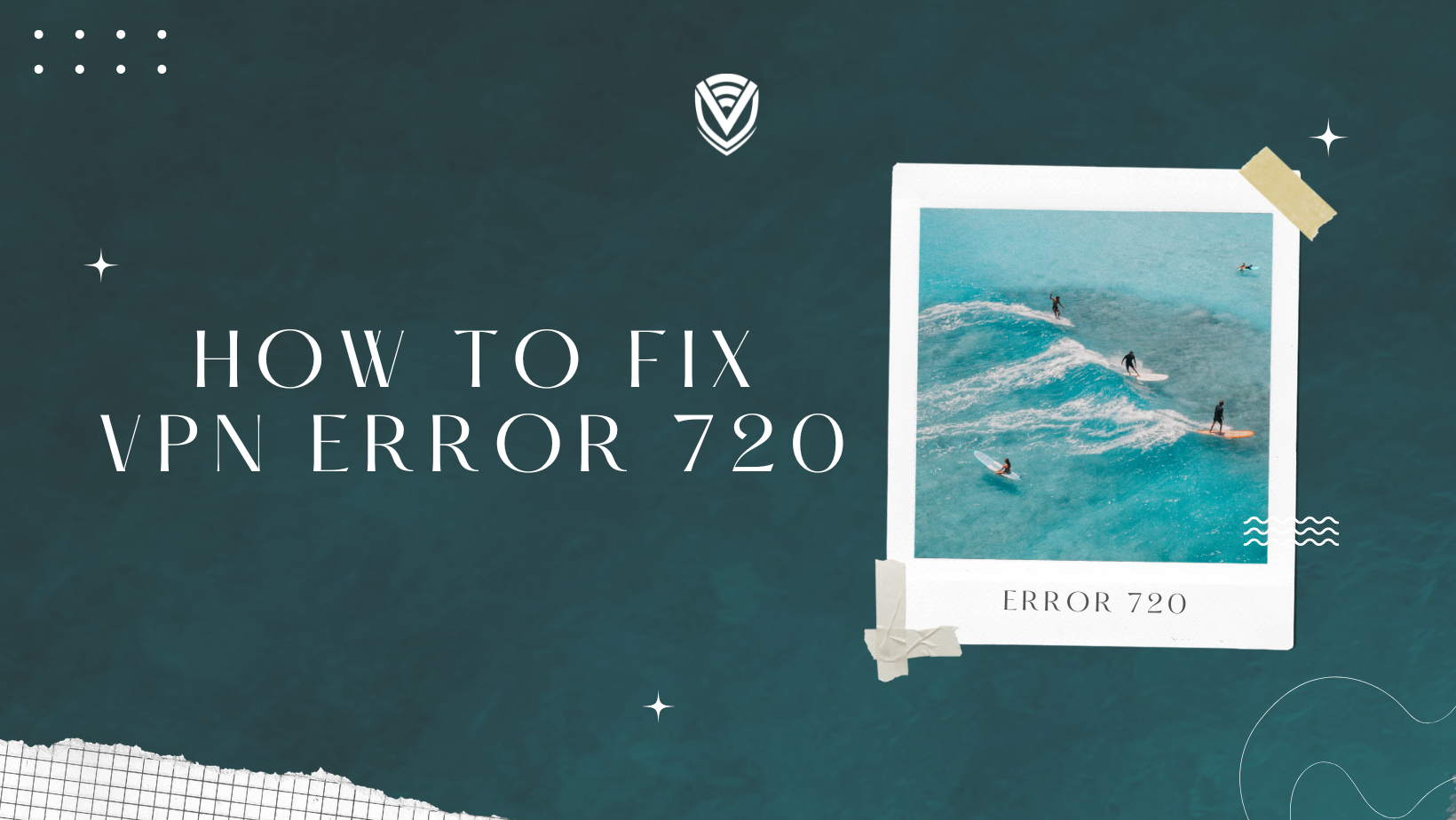 If you have a VPN error 720, don't worry - you're not alone! This is a common error that can happen for a variety of reasons. Fortunately, it can be fixed with a few simple steps. This blog post will show you how to troubleshoot and resolve error 720. Keep reading to learn more!
What is Error 720?
VPN Error 720 occurs when the remote computer's network connection is not established or secured. This error can often be caused by the local computer's encryption settings not matching the VPN server's encryption settings. While this error has bugged many users for as long as we can remember, there are six easy-to-follow methods for resolving it.
Methods for Resolving Error 720 on Windows
The following solutions will teach you almost every method to fix the infamous error 720. Let's check them out together.
Checking Your Username and Password
Sounds easy enough. Right? But you'd be amazed how many people get the username and password wrong. To fix this issue, follow the steps below.
Find the Start button and right-click on it.

Select Network Connections.

Select your VPN connection and select Advanced Options.

Select Edit and check the Server address.

Click Save.
Checking your Firewall
In some cases, the firewall settings mess up the VPN connection. The wrong firewall settings can obstruct your connection by blocking packets from being sent. Follow the steps below to resolve this issue.
Click on the Start button and type Firewall.

Select Firewall & network protection.

Select Advanced settings (if prompted by UAC, select Yes).

Go to Outbound Rules.

Check the Remote Port status to see everything's in order.
Status needed for each VPN protocol
PPTP: Port 1723 for TCP and 47 for GRE.
L2TP/IPsec: Port 1701 for UDP and ports 500 and 4500 for UDP.
SSTP: Port 443 for TCP.
IKEv2: Ports 500 and 4500 for UDP.
Reinstalling the WAN Miniport network adapters
Go to Device Manager.

Click on the Network adapters menu.

Find the WAN Miniport entry and right-click on it.

Select Uninstall device.

Confirm by selecting Uninstall.

Follow the same steps for every WAN Miniport entry.
This will automatically reinstall every WAN Miniport network adapter by your OS.
Updating device drivers
Another proven-to-be-useful method is updating the device drivers on a Windows computer. You can update the network adapters if you're trying to do it for free. Or you could use paid driver update tools. These tools detect outdated drivers on your computer and renew them automatically.
Resetting Winsock
Press Windows Key + R to launch the Run window.

Type "cmd" into the Run window and press Enter.

A Command Prompt window will open. Type "netsh winsock reset" and press Enter.

Once the command has been executed, type "netsh int ip reset", and press Enter again.

Restart your computer for the changes to take effect.
Flushing DNS
Launch the command prompt as Admin.

In the new window, type the following:
ipconfig /flushdns
ipconfig /registerdns
ipconfig /release
ipconfig /renew
NETSH winsock reset catalog
NETSH int ipv4 reset reset.log
NETSH int ipv6 reset reset.log
exit
Restart your computer for the changes to take effect.
This method works great if you're trying to resolve issues regarding your network messing up your VPN connection.
Setting your router's IP address
This method makes the VPN's server use your router's IP address. Follow the steps below to set your router's IP address.
Press Win+R together, enter "cmd", and press Enter.

Type in "ipconfig"

Next to the Default Gateway, select the IP address.

Copy the IP address.

Right-click on the Start button.

Go to Network Connections and select Change adapter options.

Right-click on Incoming Connections.

Select Properties.

Switch to Networking.

Click on

Internet Protocol Version 4

.

Click on Use the following IP address.

Paste the gateway.
Ways to Prevent Error 720 from Occurring Again
Ensure that all of the related components of your VPN service are up to date, such as the software and firmware on your router. This is especially important if you encounter error 720, as outdated components may cause the problem. To resolve error 720, make sure that you have the latest versions of the software and firmware installed on your computer, router, and other devices.
Additionally, ensure that all the cables, routers, and other hardware components related to your VPN service are set up and functioning correctly. Keeping your VPN-related components up to date can help ensure that error 720 does not occur.
Conclusion
In conclusion, an error 720 can be a frustrating problem for those seeking to connect through a VPN. However, by following the steps outlined in this article, you can help reduce the chances of experiencing an error 720 and maximize the stability of your connection. By researching compatible VPN software, device compatibility checks, and proper antivirus/anti-malware installation, you can feel confident that you are taking active steps toward maintaining a secure and stable connection.
VPN Error 720 occurs when the remote computer's network connection is not established or secured.

Checking the settings of the network adapters and disabling and re-enabling them, updating the network drivers, and patching the operating system are common solutions.

Common causes for error 720 are Wrong VPN username and password, wrong firewall settings, outdated device drivers, and unstable internet connection.
FAQ
What are the common causes of VPN error 720?
Wrong VPN username and password

Wrong firewall settings

Outdated device drivers

Unstable internet connection
What types of VPN are more susceptible to error 720?
Certain VPNs, such as PPTP and L2TP/IPsec, are more susceptible to this error, as they rely on underlying network technologies (PPTP, IPsec, etc.) that can encounter connection problems. OpenVPN is less susceptible to this error, using its protocol and software to establish secure connections.
How have I successfully fixed VPN error 720?
To determine if you have successfully fixed VPN error 720, you must test your VPN connection. The issue has been fixed if the connection is successful and you can access resources securely. Further troubleshooting may be necessary if the connection fails and you still receive error 720.
People also read:
Do you value your privacy online?
Use VPN Surf and surf safely and securely in the open waters of the internet.