Understanding and Troubleshooting VPN Error 868
VPN
2023-02-13 11:51:08
- by
Rachel Lee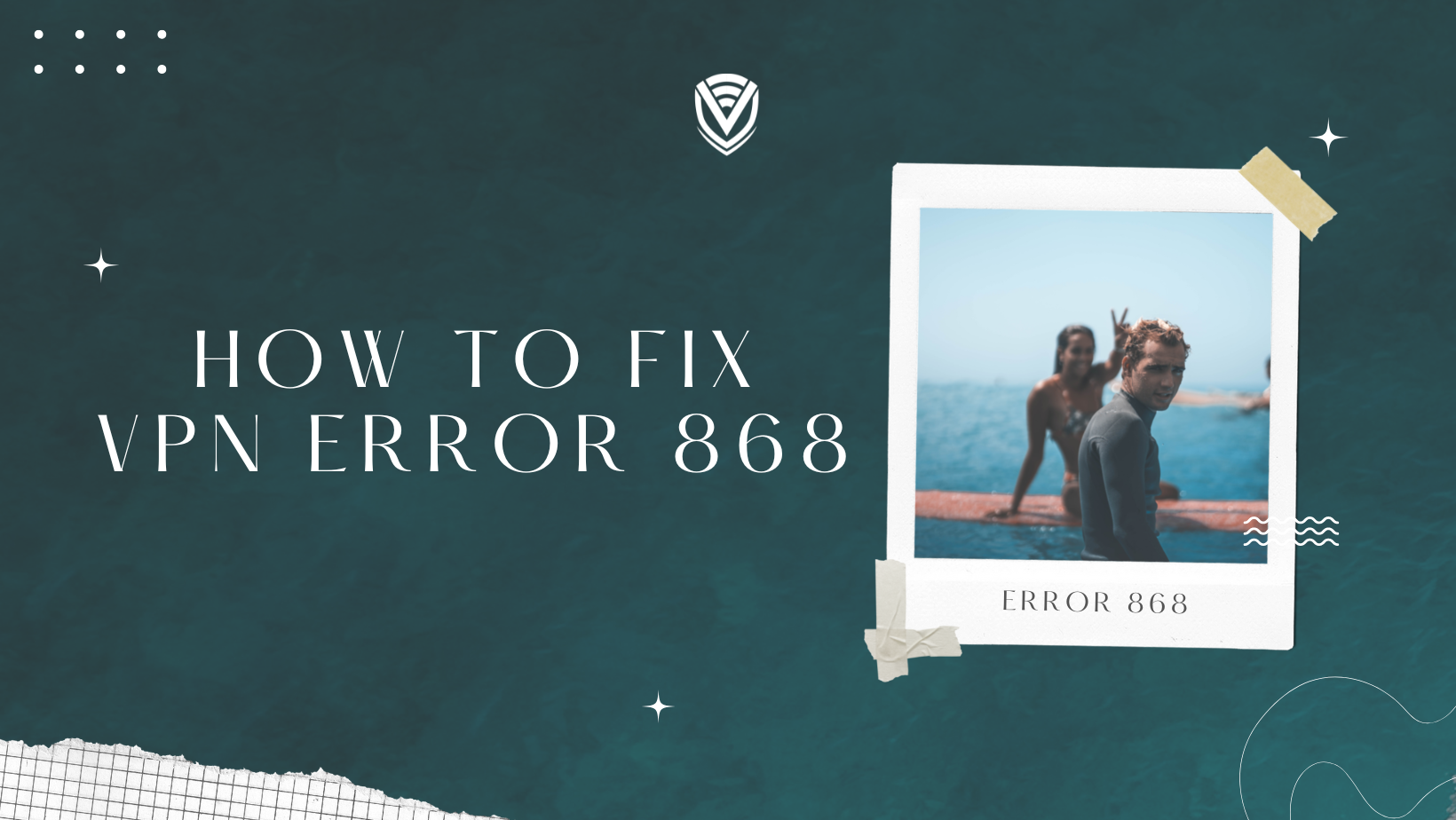 VPN Error 868 can be one of the most frustrating errors when connecting to a Virtual Private Network (VPN). It's important to understand what the error is and what can be done to troubleshoot it. This blog post will look at understanding and troubleshooting VPN Error 868.
What is VPN Error 868?
VPN Error 868 is a common error experienced when establishing a Virtual Private Network (VPN) connection. This error prevents access to the remote server and is a frequent issue reported by Windows users. VPN Error 868 is generally related to authentication and security protocols, network connections, or the modem used for the VPN connection.
In some cases, restarting the router or modem can help fix this issue. You may also need to check your internet connection settings, configure your firewall and antivirus software correctly or choose a different type of VPN protocol. It is also possible that the remote server is blocking your VPN connections. If these steps do not resolve the VPN Error 868, contact your internet service provider for additional assistance.
Causes of VPN Error 868
VPN Error 868 typically occurs when there is an issue with your network provider or Windows Firewall blocking PPTP connections on port 1723. This error occurs when the user tries to connect to a secure network.
To solve this issue, you should check with your network provider if they are blocking port 1723. You can contact your network provider or manually configure your Windows Firewall settings if the port is blocked. It's important to note that when configuring Windows Firewall settings manually, care should be taken to ensure that all port 1723 connections are allowed for PPTP connections.
This error may be caused by a corrupted registry entry, a misconfigured proxy server, or security software like an antivirus, firewall, or internet security suite that blocks the VPN connection. To fix it, you must reset the corrupted registry. As for the misconfigured software, their settings must be configured correctly to connect successfully to the VPN.
How to Resolve VPN Error 868
Use the methods listed below to fix VPN error 868 on Windows 10.
Method 1: Turning off Windows Firewall and security software
If your VPN is blocked by Windows Firewall or other security software, you will not be able to connect to the Internet, which is detrimental to your VPN connection. For security reasons, some routers and antiviruses block ports. To turn off the Windows Firewall, you will have to turn off all the programs that might interfere with the VPN and block the ports necessary for the VPN. This can be done by following these instructions.
Open Run by pressing Win+R, and type firewall.cpl, then hit Enter. The Windows Defender Firewall window will appear once the Run window has been opened.

Click on the Turn Windows Defender Firewall on or off button.

Click on the Ok button after adding your settings. This turns off the Windows Defender Firewall for public and private networks.
You can resolve the issue by turning off your firewall. However, if the issue persists, you need to check your router settings to ensure that all network ports are permitted on the router.
Method 2: Running the netsh commands
We will reset your network connection configuration by running some commands in the command prompt to resolve the connection error. Sometimes, a faulty network connection may result in a connection error.
Press the Windows key and type Command Prompt. Right-click on it and choose Run as Administrator.

Enter the following commands one by one into the command prompt window:
ipconfig
flushdns ipconfig
registerdns ipconfig
release ipconfig
renew netsh winsock
reset netsh int ip reset
Method 3: Check VPN Network Name and Encryption Protocol
The easiest way is to go to Settings > Network & Internet > VPN. Make sure your VPN settings are correct.
Method 4: Rebooting RasMan
In this section, you will learn how you can resolve VPN error 868, which has plagued the network connections of Windows computers everywhere. RasMan can slow down the network connections, and resetting its settings should resolve most users' problems.
Press the Windows button on your computer.

Select the Run as Administrator option.

In the command prompt window, type the following two commands:
net stop RasMan
net start RasMan
When the commands have been executed, close the command prompt window and check whether the error has been resolved.
Method 5: Removing VPN settings
A proxy setting on your computer may be the reason for your network connection's failure. To properly configure a VPN, you should disable or remove all proxy settings from your computer. Follow these steps to remove proxy settings from your computer.
Press Windows+R, and type inetcpl.cpl, which will open the Internet properties wizard.

Go to the Connections tab and click on the LAN settings button.

Uncheck. Use a proxy server for your LAN and an automatic configuration script.

Click on the Save button.
Method 6: Changing DNS settings
It is possible to solve this problem by switching to another DNS server from your current one.
Method 7: Updating the Network Drivers
Drivers must be updated regularly to ensure that the Windows operating system runs smoothly. Drivers are the most important software to run hardware correctly in the Windows operating system. Faulty or outdated network drivers often cause connection failure error 868. Here is a simple step-by-step guide to updating your network drivers.
Press the Windows and R buttons and open the Run box.

Type in devmgmt.msc and press Enter.

Locate your network adapter in the network adapters section, right-click on it, and then select Update Driver.

Reboot your computer to make sure the changes have been applied.
Final Word
VPN Error 868 can be one of the most frustrating errors when connecting to a Virtual Private Network (VPN). Understanding the error and how to troubleshoot it is key to ensuring your VPN connection is successful. Fortunately, there are ways to ensure the error is fixed and a successful connection is established. By taking some time to familiarise yourself with the potential causes of this error and its possible solutions, you can ensure your VPN connection runs smoothly.
VPN Error 868 typically occurs when the VPN server is not reachable, which can happen when the connection is improperly configured or the server is down.

To troubleshoot this error, you should first make sure that your VPN is properly configured and try restarting your computer and router.

If the issue isn't fixed, you may need to contact your IT administrator or VPN provider for technical support.
FAQ
What are the potential causes of VPN Error 868?
VPN Error 868 is typically caused by TCP/IP network problems, such as incorrect network settings, a blocked port, or a problem with the router or modem. Other potential causes can include an antivirus or firewall, an incompatible VPN client, or an issue with the ISP's network or hardware.
How can you configure your firewall to resolve Error 868?
Open the Windows Firewall with the Advanced Security window and type' Firewall.cpl'.

In the new window, click 'Inbound Rules', then scroll down and double-click' Remote Access Connection Manager'.

Check the box next to 'Enabled' to enable the rule, and click 'Apply'.
This should allow Remote Access Connection Manager to run and resolve Error 868.
People also read:
Do you value your privacy online?
Use VPN Surf and surf safely and securely in the open waters of the internet.