There is no alternative to hiding your IP address because there is no other way you can enjoy full anonymity while browsing the internet. And since hiding your IP address is easy, users are doing so all the time. Including iPhone users who can hide their IP address to unblock geo-blocking content online. The main reason why users hide their IP address is to gain access to location-based content that is not available in your region.
For example, you are using Netflix, and you want to watch Prison Break, but the show is not available in India; it is rather for the users from Uk, Canada, China, etc. So, you can change your device location to China and access Netflix to watch the show. Likewise, you can stream many other platforms that offer geo-blocked content. And along the line, changing your IP address protects your device from hackers, advertisers, and other third parties. So, it's worth it. This post compiles the best methods to hide your IP address in iPhone devices. Keep reading to know more.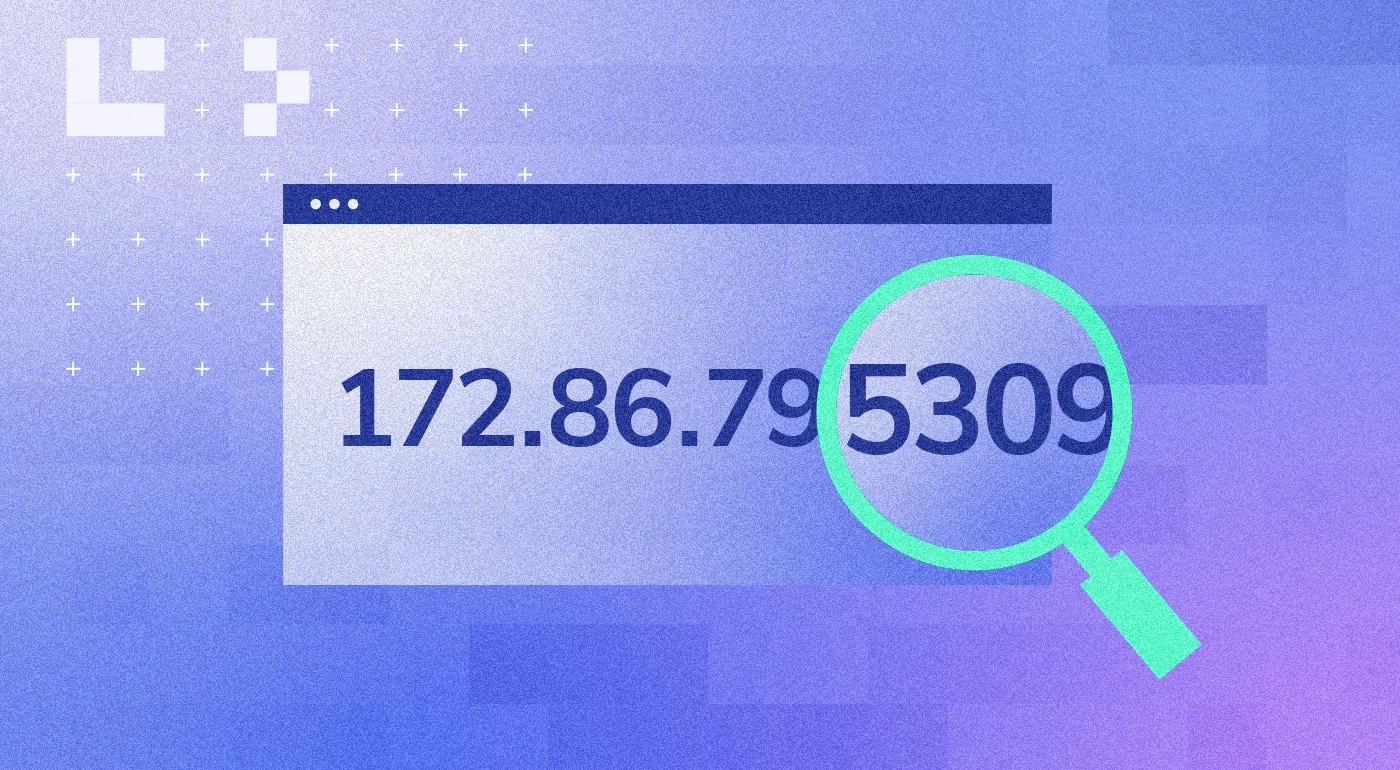 What Are IP Addresses?
You must know what an IP looks like to protect your IP address. Well, you can open your internet browser and Google "what's my IP address?". They will show you your device's IP address which looks like this: 123.45.67.89. Every device has its unique IP address, but its location might be the same as long as they are in the same place.
However, if you connect all the devices to the same WIFI network, their IP addresses will look the same. The full form of IP is Internet Protocol which combines a series of numbers that help the government or trackers identify every single device that connects to the internet.
IP addresses have types. The first type is IPv4 (Internet Protocol version 4) which has four multiple-digit numbers divided by periods. And IPv6 (Internet Protocol version 6) consists of both letters and numbers. Since every device has its unique IP address, the IPv6 came into function because there weren't enough numbers to allocate.
And now, IPv6 is more secure and supports efficient data flow since it comes with both numbers and letters. But IPv4 is still the most popular device choice because getting an IPv6 IP address is not easy.
We will discuss switching to IPv4 from IPv6 in another post. But right now, you need to know the importance of IP addresses—what they do and how to protect them, etc. Find some IP Changer Apps.
What Are the IP Addresses for? Can They Be Misused?
Every device, including your iPhone, Mac laptop, Windows computer, gaming console, camera, and even smart TV, has an IP address. These IP addresses identify a device for data delivery. When you are visiting a particular site on the internet, your device sends data requests to that website's server with the IP address. Then the website returns the information your device requested. So, the main importance of an IP address is its unity that differentiates your device from other devices of its kind.
However, your IP address can also be misused—all the more reasons why you should hide your IP. If there was no IP, your device could not receive data from the internet, so you cannot delete your IP. The only thing you could do is hide it so that malicious people don't track your online activities. Your unique IP and device location are easily accessed by the websites you are visiting. If you visit a malicious website, they will learn what you are doing. And you could also be the victim of internet censorship without notice.
When you are browsing a torrent or an adult site, your IP address is in view, so it is not safe on its own. Not to mention that the internet service provider stores whatever you are browsing online for years or months. So, if the government was to track the citizen's internet activities, you would have some serious privacy problems.
Also, your internet provider shares your browsing history with third-party companies without telling you about it. If you need anonymity online so that your privacy could not be violated, the best thing you could do is hide your IP. There are many benefits of hiding the IP address that might save you from some troubles. Learn how you can bypass internet censorship by changing your IP.
Why Should You Hide Your IP?
If you share your IP address to whatever website you are visiting online, you are handing out your privacy for free. Most of the time, your IP address can accurately show your exact location. And when you are downloading something from a torrent, which is not legal, your IP address can put you into censorship.
Other times when you are handing out your IP addresses, advertisers use your data to target your interest and represent specific content to you. Though it seems that you are getting more than asking, this is a serious online problem nowadays because you are just browsing the internet, and the marketers are gaining profits from it.
For example, hotels and travel agencies use your IP location to show their services and prices. They use your location to earn profits by offering you services and products. Therefore, to protect your privacy online, you should always try to keep your iPhone IP address hidden unless you want the website to know your location. There are some easiest ways to hide your IP address on your iPhone, and now we are going to discuss them. Here is How to change your IP.
What Are the Best Ways to Hide Your IP Address on an iPhone?
These methods are not only applicable to iPhone users but to every other device operating system that you have used. For example, if you can hide your IP on an iPhone with a VPN (Virtual Private Network), then you can use the same on your Mac laptop to hide your IP. There are the top 4 ways you can hide your IP on your iPhone and other devices. Let's check them out quickly.
1. You Can Use a VPN to Hide Your iPhone IP Address
Using a VPN to hide your IP address is the easiest of all methods. VPN stands for Virtual Private Network which comes in the form of an application. The VPN routes your internet activities through servers from different locations and protects your data with end-to-end encryption. Along with that, it assigns a new IP address to your device to hide the previous one you had. VPN applications are easy to download on iPhone devices as well. You can use ExpressVPN, NordVPN, or any other VPN services that are available for iPhone devices.
Most users like VPNs because they are easy to use. You install them on your iPhone and turn on the service to connect your device to another country. For example, you are a USA-based iPhone user, but you want to access content that is only available in China. You can change your device location and IP address with the VPN and then browse the internet. Everything you see on your browser will be associated with China.
VPNs are also the safest way to browse torrents because they come with advanced encryption that protects your IP from getting hacked. VPNs are available for both free and paid subscriptions, but the paid ones tend to be the most reliable. However, the free ones are limited to bandwidth usage and tend to be slower than a paid VPN service. The top VPNs for the iPhone we have tested are VPN Surf, ExpressVPN, CyberGhost, ProtonVPN, etc.
However, VPN Surf is the best when it comes to a paid VPN subscription. You can check out our other guides to learn more about VPN technology. But if VPN is not your preferred method to hide your iPhone IP address, there are more methods you can apply.
2. Use a Proxy and Hide Your IP Address
Proxy servers work as a central point between your device and the internet. Proxy servers are a lot like VPN services but with some differences. When your device runs a proxy server, it uses the IP address the proxy provides. And that IP will communicate with the website to bring in the information you are trying to access.
So, in short, a proxy server hides your personal IP address and assigns your device with a new one to obtain the information from the websites you are visiting. However, proxy servers are not as easy to use as VPNs. If you don't use a proxy server correctly, it will slow down your computer and hinder your internet activities.
Moreover, proxy servers won't hide your data as VPNs do with end-to-end encryption technology. It can only provide you with a new IP and only works on your iPhone browsers and not for mobile applications. Therefore, we think that VPNs are the better option when it comes to VPNs vs. Proxy because proxy servers are not that secure and safe for torrenting.
3. Use Tor on your iPhone and Hide Your IP Address
Tor is another solid way to keep your privacy safe on your iPhone device. You can stay anonymous with Tor and still browse the internet. Tor's full form is The Onion Router, monitored by thousands of worldwide volunteers.
Hence, you can see it has a large user base. Some volunteer nodes help your internet traffic to stay encrypted. These nodes are like proxy servers that route your internet traffic safely and securely. The nodes have the IP addresses, and they come in sequence. The last IP in the sequence is the "exit node," and the website you are visiting can only see this IP address.
The sequence of the IP addresses changes every time you visit a new or the same website so tracking the IP becomes more challenging each time. Hence, it helps in protecting your anonymity when it comes to browsing the internet. You can download the Tor Browser on iPhone which is free and works like any other browser. But Tor has a notorious record of helping criminal activities such as the darknet, unlawful websites, etc., and people are unlikely to use Tor for browsing and streaming. Also, some websites don't allow IP addresses that are recognized as tor nodes.
4. Switch Networks to Hide Your IP
If you are not too worried about your IP address or device location, here is a quick solution. First, switch between networks instead of using any other methods described above. You can connect your device to a different hotspot or Wifi network if you want a different IP. For example, public wifi networks like the ones in libraries or cafes can change your IP address. But that does not make you necessarily safe from IP tracking. So, this temporary solution may not help all the time. And you might want to get a proxy or VPN service.
Conclusion
All of the above solutions give you temporary or semi-permanent ways to hide your IP address in your iPhone. But the only way to hide your IP and keep your privacy safe online is to use a VPN.
Of course, you could use other methods, but they are not perfect. For example, you could ask your Internet Service Provider to change your IP address. But that IP address won't stay the same forever because these IPs are recycled. There are only a limited number of IP addresses available, and recycling only helps in preserving the number. You may have also noticed that your IP addresses differ from those you saw last month. This is because these are dynamic IP addresses. But there are static IP addresses that cost a charge to get and last forever.
Using a VPN is the best solution whenever you are browsing the internet from your device, iPhone, or anything else. But if you can use proxy servers correctly, maybe go for it as well. If you need any help with How to Hide Your iPhone IP Address, don't forget to ask us in the comment box below.
We are interested in IP security as well, that's why we want to recommend you to check this out:
- How to Get a Static IP Address
- How to get a dynamic IP address, and why you might want one!
- What Information Your IP Address Reveals To The Public
- How To Find Your Routers IP Address
Do you value your privacy online?
Use VPN Surf and surf safely and securely in the open waters of the internet.