Internet censorship is the control or limitation of what you can access (or see) on the internet. These censorship can be implemented by governments, organizations or by a person's own initiative.
But why would these entities limit people from the internet?
There are a number of reasons why this can happen but here's a couple of reasons:
Self-censorship for moral reasons

Religious reasons

Business reasons

Political reasons

Out of legal or other consequences
There are many reasons why individuals or organizations censor the internet, but in this article we will go through the internet limitations without the users consent.
The internet is free and open for everyone in the globe. It was meant to be free when it was brought up but with time some parts of the internet started being censored. Due to the fact that the internet was free, there is a lot of information which might not be suitable for the general public.
The extent of internet censorship varies from country to country. While most countries have a moderate level of censorship, other countries go far and beyond. For example illegal activities will be censored under moderate censoring.
The harsh censorships occur when it comes to censoring information such as news and communication among people by the governments. Censorship also occurs in response to events such as elections, protests and riots.
Other types of censorship happen due to the use of copyrighted content, defamation, harassment and obscene material claims as a way to hide the content.
As you saw upto now the different types of censorship that takes place and the support for these actions are quite varied. While some people support these claims there's others who don't.
Have a look at how the internet censorship works around the globe (taken from Wikipedia).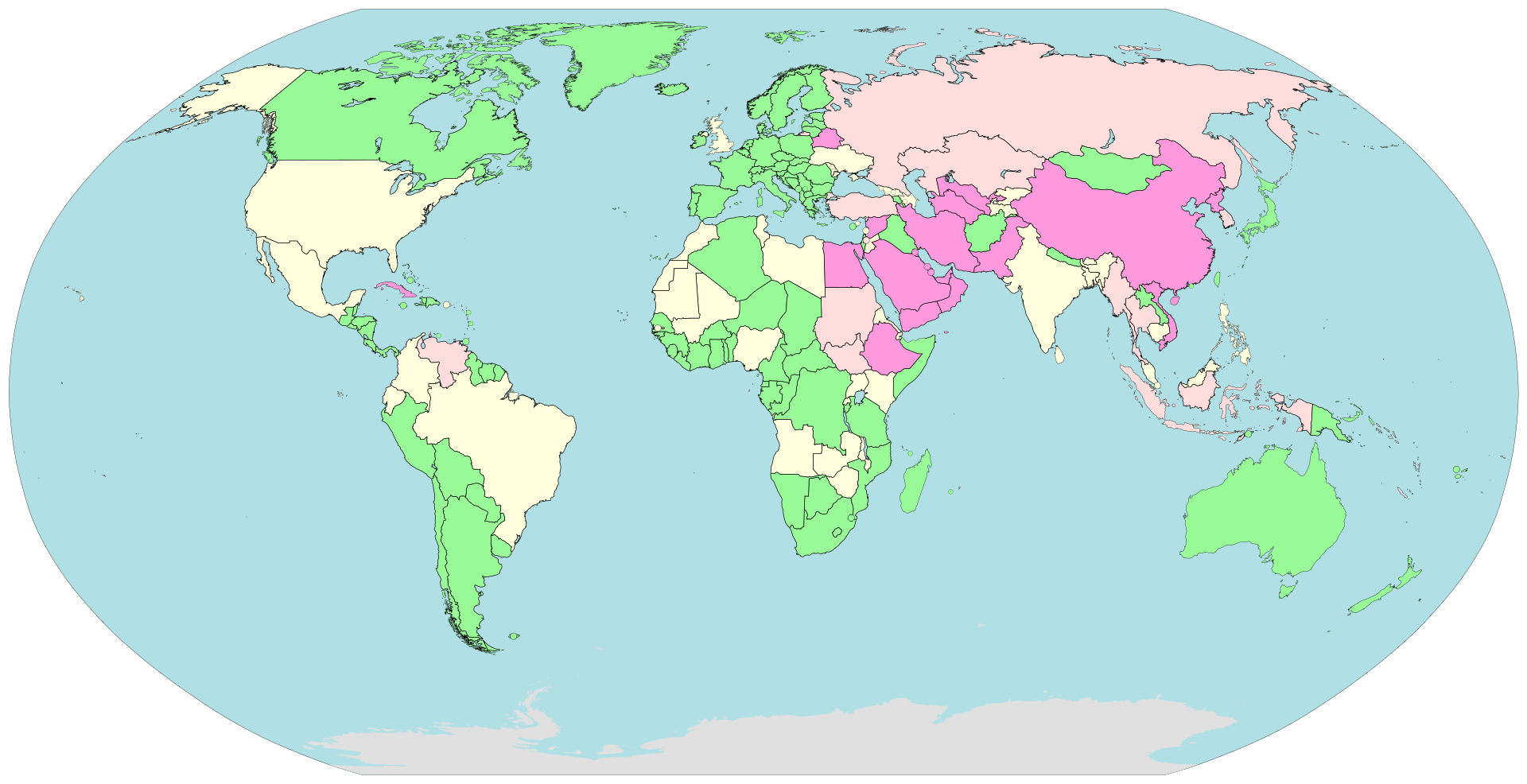 Pink: Pervasive - Large and broad
Light Pink: Substantial - Medium
Beige: Selective - Small and Specific
Green: Littel or none
As more people start using the internet daily, the censorship levels also increase. The motive, scope and effectiveness of internet censorship vary a lot from country to country. The majority of countries that have higher amount of internet censorship lies in the regions of east Asia, central Asia, Middle east and north africa.
This doesn't mean that the rest of the countries are not facing censorship. That's hardly the truth. Now Let's take a look at the countries that have internet restrictions:
In USA there's a state-mandated internet filtering in libraries and K-12 schools

In France and Germany content related to nazism and holocaust denial are blocked.

Hate speech and child pornography is blocked in many coutries across the globe

Belarus heavily censors the content on the internet, specially related to the government. Also VPN's are illegal there.

China has a very bad reputation among the world when it comes to internet censorship. At Least 1800 websites are blocked in China and they monitor the users widely. This censorship is known as "The great firewall of China" which blocks access to YouTube, Facebook and Twitter among others.

Iran is also among one of the countries which falls under very high internet censorship. In 2019 the country had a few days of '

internet lockdown

' where the whole country did not have internet. They also heavily restrict lots of sites related to the government.
There are many countries which had internet censorship throughout their history or might even be happening right now.
In 2006 Reporters without Borders, a non-governmental organization that advocates freedom of press, started publishing a list of 'Enemies of the internet'. The organization classifies a country as an enemy of the internet because "all of these countries mark themselves out not just for their capacity to censor news and information online but also for their almost systematic repression of Internet users." In 2007 a second list of countries "Under Surveillance" was added.
The following list was made in June 2020 and subjected to change, reference: wikipedia
Current enemies of the internet
Bahrain

Belarus

China

Cuba

Ethiopia

India

Iran

North Korea

Pakistan

Russia

Saudi Arabia

Sudan

Syria

Turkmenistan

UAE

UK

USA

Uzbekistan

Vietnam
Countries Under Surveillance
Australia

Egypt

Eritrea

France

Kazakhstan

Malaysia

South Korea

Sri Lanka

Thailand

Tunisia

Turkey
How to protect oneself from Internet Censorship?
Use a VPN
The best way to bypass the internet censorship and access the blocked sites is to use a VPN from a reputable VPN provider (like VPN Surf) ;).
Using a VPN has many advantages, howhere in order to access blocked sites, this is the perfect solution. The VPN will hide your IP address and mask it with one of theirs in another country. This will not trigger the site's geo-blocks and hence no more restrictions.
Do you value your privacy online?
Use VPN Surf and surf safely and securely in the open waters of the internet.