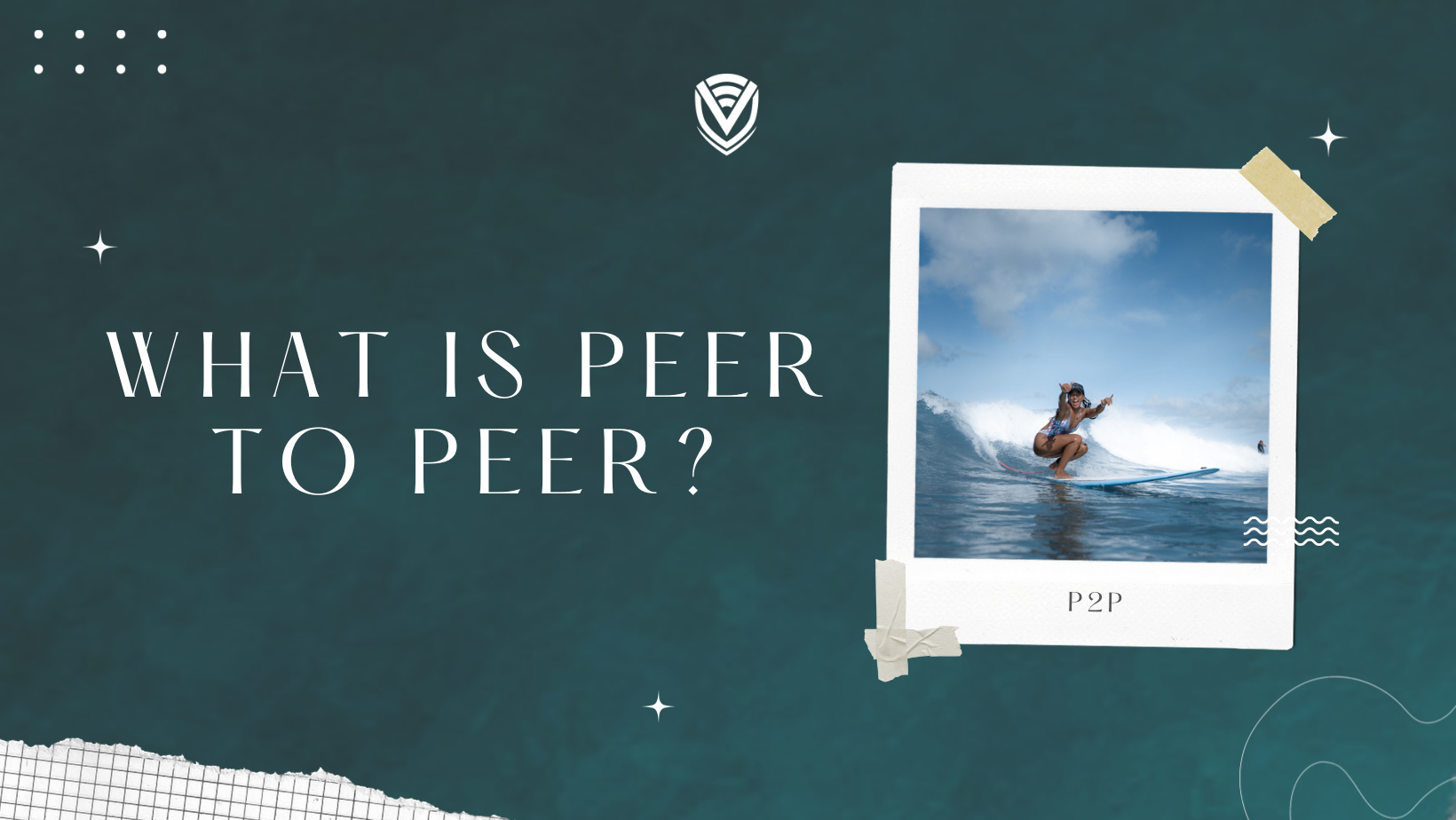 Likewise called "P2P" or "peer-to-peer", this way organises data exchange between computers. Having demonstrated its effectiveness, its applications today go beyond the scope of computing. Here's what you need to know about how P2P works and develops.
The Simple Definition of Peer to Peer
In the most basic sense, a peer-to-peer network is a simple network where each computer doubles as a node and a server for the files it exclusively owns. These are the same as a home network or an office network.
However, when P2P networks are established on the Internet, the size of the network and the files available allow huge amounts of data to be shared. Early P2P networks like Napster used client software and a central server. In contrast, later networks like Kazaa and BitTorrent removed the central server and split sharing tasks among multiple nodes to free up bandwidth.
Peer-to-peer networks are commonly associated with internet hacking and illegal file sharing.
We can classify peer-to-peer systems according to their architecture. The three main types are as follows:
Unstructured;

Structured;

Hybrid P2P networks.
Compared to the other two types, hybrid models show improved overall performance. They generally combine the main advantages of each approach, achieving significant degrees of efficiency and decentralization simultaneously.
Finally, although structured networks are often more efficient, they tend to exhibit higher levels of centralization and generally incur higher set-up and maintenance costs. Moreover, structured networks are less robust due to high attrition rates.
How does P2P work?
P2P is a model of the decentralized organization of computer networks in which each computer is both a client and a server, capable of receiving and sending data. The advantage is to prevent a central web server from being saturated when it is very busy.
With P2P, each Internet user downloads a file and redistributes it immediately.
Simply put, a peer-to-peer (P2P) network is a group of computers, each acting as a node to share files within the group. Instead of having a central server as a shared drive, each computer acts as a server for the files stored on it. When a P2P network is established over the Internet, a central server can be used to index files, or a distributed network can be established where file sharing is divided among all network users who store a given file.
No central server is essential, but network users must share their content with the same P2P software. This is particularly the case of BitTorrent, among the most used.
A growing P2P model
The "peer-to-peer" model has developed rapidly in the fields of online file exchange: online sharing of music, films or streaming of events. Easy to set up, P2P networks have thus become one of the main methods of pirating and illegal online content distribution.
But if the reputation of P2P is notorious, the mystery remains in its design—this organizational model has nothing to do with piracy. It has, moreover, been adopted in other legitimate IT sectors:
In distributed computing, networks have been set up in which each computer solves simple equations so that, overall, a network finds the solution to an extremely complex problem;

Regarding communication, many applications, such as Skype, are based on P2P for audio and video exchange over the Internet.

The economic impact of P2P cannot be reduced to the simple evaluation of piracy. The peer-to-peer distribution model is particularly effective in the areas of the collaborative economy with, for example, the development:

Loan platforms between individuals directly inspired by P2P;

Payment services between individuals are launched by web giants such as Facebook and Twitter or by online banks like Morning-in-France.
Tips & Tricks
P2P legal or illegal? Peer-to-peer technology itself is not illegal. But it is forbidden in many countries, like France, UAE, Canada or even Turkey, to distribute films or pieces of music protected by copyright. Since the implementation of Hadopi, rights holders are even authorized to obtain from Internet providers the identity of pirates who illegally download files.
Furthermore, in P2P networks, connected devices are separated from the files stored on their hard drives. Using software applications designed to mediate data sharing, users can interrogate other devices on the network to find and download files. Once a user has uploaded a given file, they can act as the source.
In other words, when a node acts as a client, it downloads files from other nodes in the network. Then, when working as a server, it becomes the source from which other nodes can download files. In practice, the two functions can occur simultaneously—downloading file A and transmitting file B.
Knowing that each node stores transmits, and receives files, P2P networks tend to gain speed and efficiency as their community of users grows. Moreover, their distributed architecture makes P2P systems highly resistant to cyberattacks. Unlike traditional models, P2P networks do not have a single point of failure.
Peer-to-Peer and Cryptoes
Beyond all the above, the use of P2P architecture in cryptocurrency is widely rife. This makes blockchains also resistant to censorship by central authorities. Unlike standard bank accounts, governments cannot freeze or empty crypto wallets. This resistance also extends to private payment processing and content platforms' censorship efforts. Some content creators and online merchants have embraced cryptocurrency payments to avoid being blocked by third parties.
Likewise, like P2P, no banks are processing or recording transactions in the Bitcoin network. Instead, the blockchain is a digital ledger that publicly records all activity. In summary, each node owns a copy of the blockchain and compares it to other nodes to ensure the data is accurate. The network quickly rejects any malicious activity or any inaccuracies.
Final Thought
In conclusion, peer-to-peer technology revolutionizes how devices communicate and share resources, eliminating the dependency on centralized systems. Its decentralized nature offers increased efficiency, scalability, and resilience. It is a powerful and versatile solution for various applications, from file sharing to decentralized finance, fostering a more interconnected and collaborative digital ecosystem.
People also read:
Do you value your privacy online?
Use VPN Surf and surf safely and securely in the open waters of the internet.