What Is VPN And What Does It Stand For?
VPN
2023-04-21 10:14:54
- by
Rachel Lee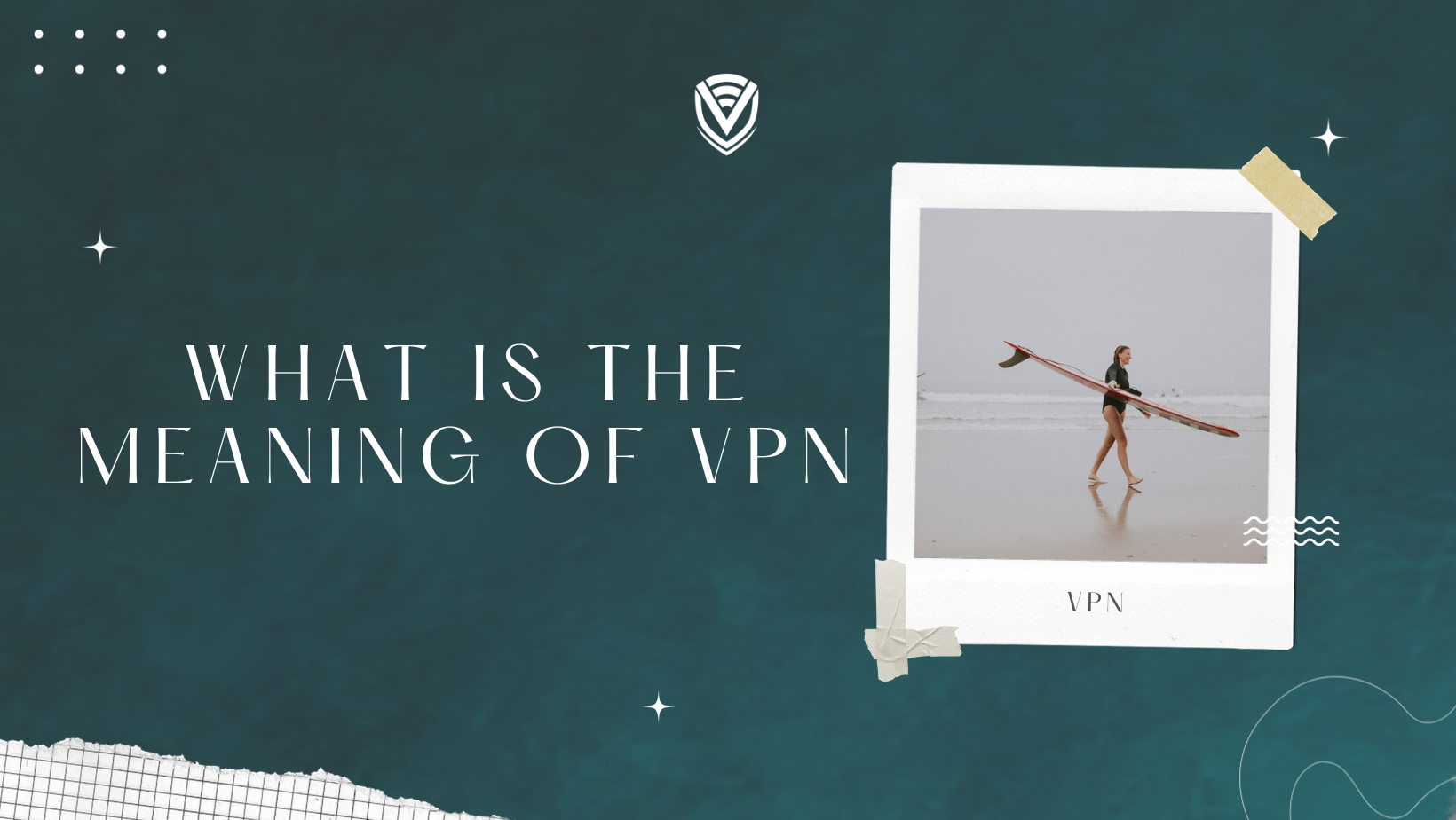 VPN stands for "virtual private network". It may sound unsafe, but trust me; it's easier to use than you think. Whether you're a big company or an individual, utilizing a VPN has many benefits. A VPN can help you enjoy Netflix more safely, travel securely, access public Wi-Fi, and transmit sensitive information. If you want to know more about VPNs, what a VPN does, why it is useful to use them, and what kind of VPNs are there, continue reading this article.
What is a VPN?
A VPN, or Virtual Private Network, is a technology that creates a secure and encrypted connection over an unsecured network, typically the Internet. It allows you to browse the web and access online resources privately and securely as if you were directly connected to a private network. So, if you need to protect your information, different kinds of VPNs are there for you.
What does a VPN do?
By allowing you to change your virtual location online, a VPN connection offers free internet by encrypting your browsing and other web traffic. VPNs are versatile as they have different levels of security and flexibility. A VPN can be used even for gaming. Now that you have learned the basics about VPNs, let's discuss their functions in more detail. Generally, a VPN enhances your online privacy and security in the following ways:
1- Encrypt your internet connection
Encrypting your internet connection gives you a secure and private connection. VPNs route your online traffic through a point-to-point connection between the VPN server and your device. You're not only shielded from hackers and sniffers when you're connected to an encrypted VPN network, but you're also keeping your actual location and identity hidden from your internet service provider (ISP), the government, marketers, or anyone else watching your local network.
2- Secure data transfer
Logging into your bank account, email, or social media through an unsecured connection can make you vulnerable to hackers. They may be waiting for the opportunity to steal and use your login credentials for nefarious purposes. Furthermore, any messages or personal data you share can be intercepted and used to blackmail you or commit identity theft.
The primary function of a VPN connection is to encrypt communication between your device and its server, creating gibberish that makes it impossible for eavesdroppers to decipher. Initially designed to link remote workers to corporate networks securely, VPN technology was intended to facilitate the safe exchange of sensitive information.
Although public Wi-Fi networks are convenient, they can pose numerous risks. Since anyone can join an unsecured network, it's impossible to determine who is connected or what they're doing. This makes it easy for cybercriminals to execute man-in-the-middle attacks, intercepting all traffic flowing through the network.
3- Stream from anywhere
Due to geo-blocking, if you travel abroad and want to watch your favourite shows from home, they'll be unavailable at your current location. But, using a VPN makes it possible to bypass location-based content blocks and allows you to connect to the server location that suits your needs. For instance, you can pick your home country from the VPN server list, and you will access everything you normally would. So, by using a VPN, you can get around geo-blocking and stream content freely.
4- Access blocked websites
You may find websites blocked when you're at school, at work, or any other location. It is also possible that certain websites will be blocked for other reasons. VPNs are useful in such situations; you can get around content blocks. As a result, you can access restricted websites.
5- Avoid censorship
VPN is very popular and useful software in particular countries. For example, internet access is limited in Iran for some websites and social media. Also, China blocks Facebook, Google, Gmail, WhatsApp, and Instagram. If you want to get around censorship and use all blocked websites and apps, use a VPN.
6- Evade ISP tracking
ISP will track all your online activity unless you utilize a VPN. All your activity is tracked, such as the services you use and how long and when you use them. ISPs can use all this information for throttling your bandwidth, depending on your usage. You can use a VPN to protect your privacy by encrypting your device's internet connection. This way, your ISP can't see your browsing history and monitor your online activity.
7-Prevent price discrimination
Based on your location or perceived ability to pay, e-commerce sites offer different prices for the same products. Some airlines offer different prices depending on your location, time, and other factors. With a VPN, you can shop online safely since it provides a private network and gives you an IP address in another country.
How does a VPN work?
A VPN, or Virtual Private Network, extends a private network across a public network, such as the Internet. When you connect to a VPN, your device creates a secure, encrypted connection to the VPN server, which acts as an intermediary between your device and the internet. This connection provides privacy and security by creating a tunnel for your internet traffic.
All your internet traffic is routed through this tunnel, encrypted with complex algorithms that protect your data from interception or manipulation by outside parties. In addition to encryption, a VPN also hides your IP address by giving you a new, temporary IP address associated with the VPN server. This makes it more difficult for websites and services to track your online activity and location.
What kind of VPNs are there?
Many types of VPNs are there for you, But there are three main kinds of VPNs that you should be familiar with them. Here, we identify them:
SSL VPN
It's common for companies not to provide all their employees with a company laptop for remote work. Employees use their devices like PCs, laptops, tablets, or mobile phones in such instances. Companies often rely on an SSL-VPN solution implemented through a compatible hardware box to ensure secure access. To access the company's login page, users usually require an HTML-5-capable browser. After arriving at the page, a username and password are necessary to gain entry.
Site-to-site VPN
A site-to-site VPN creates a covert network that shields private intranets and enables authorized users to share resources. This VPN solution is ideal if your enterprise has multiple locations linked to the Wide Area Network (WAN) via its own Local Area Network (LAN). Another scenario where a site-to-site VPN comes in handy is transferring files between two disparate intranets without allowing users from one intranet to access the other directly.
Client-to-Server VPN
Client-to-server VPN (Virtual Private Network) is a type of VPN in which an individual user, or client, connects to a remote server to access the internet securely and privately. In this type of VPN, the user's device (such as a laptop or smartphone) connects to the VPN server through VPN client software installed on the device. The VPN client software encrypts all the user's internet traffic before sending it to the server, which then decrypts the traffic and routes it to the internet.
Client-to-server VPN is commonly used by remote workers or individuals who need to securely gain access to company resources, such as a company network, intranet, or email system, from outside the office. By connecting via a client-to-server VPN, the user can access these resources as if they were physically in the office while ensuring their internet activities are secure and private.
Why Do I Need a VPN?
VPNs can be useful for various reasons, including protecting your online privacy and security, accessing geo-restricted content, and avoiding censorship in countries where the internet is heavily monitored or restricted. However, it's worth noting that VPNs are not foolproof, and there are ways for determined attackers to bypass their encryption and identify your IP address.
But for most users, a VPN provides a simple and effective way to increase the privacy and security of their online activity. If you connect to public Wi-Fi networks, you must use a VPN because you never know who might be monitoring your internet traffic. They may steal your personal data, payment information, passwords, and identity. Also, you may need a VPN for:
Security on public Wi-Fi

Data privacy from Your internet service provider

Keep your shared network secure

Data privacy from the apps and services You use

Data privacy from Your government

Access to any content in any place

Security when working remotely

Adaptable to numerous smart devices

Secure data transfer

Access control options

Browse safely on any device

Bypass geo-blocking

Protect financial transactions

Connect to public Wi-Fi confidently

Avoid social media blocks

Maintain account access
What are the features of a good VPN?
There are some features that you should expect from your VPN. The following are some of the features of an excellent VPN:
Encrypting your IP address:

To have a secure connection, your VPN must hide your IP address from your ISP. In this way, you can share information online. This means only you and your VPN provider will see it.
Encrypting protocols:

Your internet history, search history, and cookies should be hidden by a VPN. By encrypting cookies, third parties will be prevented from accessing confidential information such as financial information, personal data, or other content.
Kill switch

: Your secure connection will be interrupted if the VPN connection is suddenly interrupted

.

Data leaks are less likely to happen when a VPN detects these sudden downtimes and automatically terminates pre-selected programs.
Two-factor authentication:

This feature checks everyone who try to log in. For instance, it sends a code to a mobile device before asking you to enter a password.

In this way, accessing your secure connection is difficult for third parties.
What are the benefits of a VPN connection?
A VPN connection can provide several benefits, including:
Increased online security

: A VPN connection encrypts your internet traffic, which can help protect your data from interception by hackers or other malicious actors. This is especially important if you're using public Wi-Fi, which is often unsecured and can leave you vulnerable to attack.

Privacy protection

: A VPN connection hides your IP address and online activity from prying eyes, making it more difficult for advertisers, government agencies, and other third parties to track your online movements and behavior.

Access to geo-restricted content:

A VPN connection can enable you to access online content that may be restricted in your region. For example, you can use a VPN to bypass geographical restrictions on streaming services like Netflix or Hulu and access content only available in other countries.

Avoid censorship:

A VPN connection can be valuable for individuals living in countries with heavy internet censorship or monitoring. You can avoid government censorship and access the uncensored internet by routing your internet traffic through a VPN server in a different country.

Better online gaming experience

: Finally, a VPN connection can sometimes provide a better online gaming experience by reducing lag and improving connection speeds, leading to smoother gameplay and fewer connection issues.
How secure is VPN?
It will be very secure if a VPN uses the most secure connection and encryption protocols. The majority of VPNs are too difficult to crack. For instance, decoding an encrypted session through a VPN takes trillions of years. If someone tries to crack a VPN, some VPNs implement PFS (Perfect Forward Security) to prevent it. In other words, VPN clients generate an encrypted key every five minutes to maintain an encrypted connection. Public Wi-Fi hotspots and people who don't protect themselves online are the targets of these scammers.
FAQs about VPNs
What does VPN mean?
VPN stands for Virtual Private Network, a service that allows you to connect to the internet securely and privately by routing your connection through a server.
When should I use a VPN?
It would help if you considered using a VPN to protect your privacy online, access content that may be restricted in your location, or securely connect to public Wi-Fi networks.
Is there a free VPN?
Yes, there are many free VPNs that you can use, but their services are limited to premium ones.
Are VPNs safe and secure?
The security and safety of a VPN depend on its protocol. Banks and governments worldwide trust VPN services that use the OpenVPN protocol. It is important to remember that VPNs only secure your internet connection, and you should not use them to block, scan, detect or remove malware.
Can I be tracked while using a VPN?
While using a VPN, it is very difficult for anyone to track your online activities. However, it is not impossible if your VPN service does not have strong encryption or if there are other vulnerabilities in your system.
Is using a VPN legal?
Yes, using a VPN is generally legal. However, depending on your country, there may be certain restrictions or regulations regarding VPN use. It is important to research these regulations before using a VPN.
How do I connect to a VPN?
You only need to download and install a VPN app on your tablet, smartphone, laptop, or any other device to connect to a VPN. After installing the VPN, go to the app and choose a server to connect. Also, there are browser extensions that you can get.
Conclusion
With a VPN, you can enjoy content restricted to certain regions from anywhere in the world. Some streaming platforms are unavailable in some countries, but with a VPN, you can bypass such restrictions and access them effortlessly.
Numerous VPN providers now offer anonymous mobile data traffic for smartphones. You can locate verified vendors on either the Google Play Store or the iOS App Store. It's important to note that only your internet data traffic will be anonymous and secured by using a VPN. Unfortunately, the VPN connection is inadequate to protect against malicious attacks from hackers, Trojans, viruses, or malware. Supplementing your computer with an anti-virus program is crucial to ensure maximum security.
People also read:
Do you value your privacy online?
Use VPN Surf and surf safely and securely in the open waters of the internet.